The Man is an audio novel set in the first decades of the 20th century
The stories and original songs are written by Steve Gillette
Track 14. "Brother Can You Spare a Dime?" Your browser does not support the audio element.
Narration:
Lorraine and little Johnny came out on the Super Chief and joined the guys in Los Angeles for about a week. They had time to do some tourist things, the shops, Olvera Street and a couple museums, got to see the ocean at Santa Monica, took a train down to San Diego and went over into Mexico for the day.
While the band was in the West, they started hearing news of the stock market crash. When they got home it was just in time to see New York starting to slide into the depression.
Yip Harburg was a friend of Danny's. He and Jay Gorney wrote the song that was to become an anthem of the times.
© 2010, Compass Rose Music, BMI
The Music:
One of the fascinating aspects of this song is the mixture of major and minor harmonies. There is a use of the Eastern-European melodic elements in the harmonic minor scale with the E7 resolving to Amin. The melody is based on a Russian-Jewish lullaby Jay Gorney's mother had sung to him as a child.
In the bridge, the step into the A7 introduces what seems like a key change to A major. This is expanded upon by the use of the Gmin to A7 change at the end of the first line, and the use of the Bmin7♭5, the ii minor of A, and a borrowed dominant of the E7. This brings us back to the A minor for the rest of the bridge.
The song was written for a 1932 musical called Americana. That year, Bing Crosby's recording became a national hit. Rise Up Singing has the chords.
For our version of this venerable old song, we had the help of Greg Artzner on vocals, Peter Davis on tenor banjo, Mark Graham on harmonica, Kim and Reggie Harris on vocals, Terry Leonino on vocals, Cindy Mangsen on accordion, Scott Petito on bass, and Randy Wolchek on piano.
Here's a video of Cindy and me performing it at the Rose Garden Coffeehouse in Massachusetts.
Video by Stephen Ide; audio by Clint Valentine & Stephen Ide
From the novel:
Four-year-old Vincenzo Antonio Gibaldi arrived with his mother at Ellis Island on November 24, 1906. He grew up in the slums of Chicago and became a pretty formidable boxer. He changed his name to 'Battling Jack' McGurn, since Irish boxers drew a better place than Italians on the fight cards. He focused on boxing and worked part-time.
He was a law-abiding citizen until his stepfather was killed by gang extortionists in 1923. He learned that three men were responsible for his stepfather's death. He took it upon himself to avenge the murder and killed all three. This act provided his introduction to Al Capone's organization and an inner circle known as the Circus gang. He became a personal bodyguard to Capone, and a specialized hit man.
McGurn was not only a ruthless killer but also kept intelligence on Capone's rivals. He uncovered several murder plots before they developed. When two rival gangsters, Edward Westcott and Frank Cawley, were found dead in a Chicago suburb, both men had Buffalo Nickels pressed into their palms. The Buffalo nickel was to be a calling card for McGurn in future hits as well.
The comedian Joey Lewis was a talented singer who was performing at a club owned by Capone called the Green Mill. McGurn was pressuring him to sign a long-term contract that would have kept him from working for one of their competitors with whom he had already accepted an offer for more money. McGurn sent three enforcers to Lewis' room at the Commonwealth Hotel. One of them was Sam Giancana. They attacked Lewis, cut his throat and left him for dead. Capone regretted the incident, but took no action against McGurn or the others. He gave Lewis $10,000 for his recovery, and I suppose, his silence.
Still his most trusted lieutenant, McGurn plotted with Capone to rid themselves of 'Bugs' Moran's North Side gang once and for all. On February 14, 1929 seven Northsiders were lined up against a garage wall and executed. Two of the shooters were dressed as uniformed police officers while the others wore suits and ties. After the gunfire, witnesses saw what they thought were two policemen leading the other men away at gunpoint. Bugs Moran escaped the slaughter, arriving late to the meeting.
McGurn was questioned immediately after the slaying but his girlfriend Louise Rolfe claimed they had spent the entire day together. McGurn was charged in the case but never brought to trial due in large part to his alibi. He was then thought to have gone to New York.
When the Whiteman band returned to New York that fall, Bing sought out some of his old drinking buddies and began to hit the high spots. On one long weekend bender, he had ended up in a hotel room with three others, and had passed out in the bathroom. The door to the hotel room was blasted open by machine gun fire, and all in the room were injured although none died. Bing escaped injury. They later learned that they had been mistaken for Jack McGurn, who was thought by the attackers to have rented the room.
During this time, Bix had been drinking excessively and was really starting to show the effects of alcoholism. He had missed some dates, and even when he showed up he had ruined several recordings. To his credit, Whiteman put him on a train for his family home in Davenport, Iowa, and continued his salary for months, hoping he would clean up and dry out. Eventually it was clear he would not be coming back to the band. Bing still refused to concede that Bix was an alcoholic, maybe because, like himself, Bix could go without liquor for days at a time.
On October 22, 1929, Charles Mitchell, chairman of National City Bank, responded to the sense of dread enveloping Wall Street with consoling words. "I know of nothing fundamentally wrong with the stock market or with the underlying credit structure." On October 23, Paramount and the Warner Brothers called off their negotiations for a merger that might have completely altered Hollywood history – and not a moment too soon. Twenty-four hours later, on Black Thursday, the market imploded as nearly 13 million shares were traded at a loss of 6 billion dollars.
Like most Americans, the musicians were not distracted by the crash. Few of them had any money in the market, and no one believed that the panic on Wall Street would be anything more than a brief inconvenience. In the days that followed, experts reassured the country that the market had stabilized. But on Tuesday, the 29th, as Whiteman resumed the Old Gold Hour, the bottom fell out. On that one day, nearly 16.5 million shares were traded at a loss of three times the money circulating in the entire nation. Hollywood noted Black Tuesday with Variety's famous headline, "Wall St. Lays an Egg."
We heard that Whiteman's manager Jim Gillespie had said, "We always knew it would happen, it's happening now. If you've got money invested in anything on the street, get what you can for it and get out!"
The crash was on everybody's mind now, and of course it was a topic for discussion with Lorraine's mom and dad when we visited them. Her father, David, was very knowledgeable about the financial world. It seemed like an extension of his history professorship, and he would be the first to tell you that history is largely economic history.
He was respectful of our limited ability to comprehend without seeming to be patronizing. In the simplest terms, as he put it, we were being subjected to a whipsaw of money policies, first easing and encouraging expansion, and then a conscious contraction, which produced the same results as the 'pump and dump' schemes of the stock market thieves. The fact is that it was being done on a higher level, not only by policies of the government, but actually, even above that.
"What could be above that?" we asked.
"Well, as you've heard me say, the Federal Reserve is not part of the Federal government, it's a private bank owned by private bankers. And, if it's subject to any government, it might be more informative to look to England for the players who really hold the strings. The Bank of England, headed by Montagu Norman has controlled our Federal Reserve bank since it came into being in 1913.
"The people who wrote the legislation creating it were all minions of the City of London. Not London town, mind you; but that separate entity, that square mile of unregulated, lawless financial profligacy which is located in London, but has not been subject to any law since they were able to hold out against William the Conqueror in 1066.
"I admit, that's an oversimplification, but I believe it's more productive to look to the strategies of Norman and the Brits in order to understand the economic policies surrounding the war, and its aftermath — and honestly, the reasons behind the war itself. By 1917, Britain needed to raise seventy-five million dollars a week in the U.S. for the purchase of armaments. This took quite an enterprise, a lot of gold, and some pretty heavy indoctrination of the American public.
"Norman dictated to his emissaries in this country: Benjamin Strong, who was the head of the Federal Reserve until he died last year, Morgan, of course, Andrew Mellon, our current Secretary of the Treasury, the Rockefellers, and the Brown Brothers, the American affiliate of London's Brown, Shipley & Co. Then there's Harriman, Vanderlip, Aldrich and Davison: a regiment of powerful players all loyal to the British model, and happy to exploit the resources and wealth of the forty-eight states. They have been richly rewarded.
"Long ago, they perfected the technique of systole and diastole, the artificial expansion and contraction strategy that has delivered all into their hands. One way to look at it is to follow the manipulation of the money supply in peace and in war over the past few decades. And then to chart the movement of gold, in and out of the houses of power as they take control of economies here and in Europe.
"War is just one of the ways that these tactics are employed. Don't put too much store in the noisy exhortations of patriotism, or even freedom. You must think more in terms of transactions, and awkwardly, so many of those transactions are hidden from public view. It may only be some time after the fact that we get to examine them."
Lorraine's mom cautioned that maybe we shouldn't be too worried about things, we had certainly experienced ups and downs, and things really had been so much better since the war. We resolved to take the long view and see what tomorrow brings.
The following day, Monday, October 28, more investors decided to get out of the market and the slide continued with a record 13 percent loss in the Dow for the day.
Throughout this period we were continually reassured by President Hoover and Secretary Mellon that fears of collapse were unfounded and that we would return to prosperity.
At the time of the crash, New York City had grown to be a major financial capital. The New York Stock Exchange was the largest stock market in the world. The Roaring Twenties were a time of prosperity and excess in the city, and, despite warnings of speculation, many believed that the market could sustain high price levels. In the words of Irving Fisher, "Stock prices have reached what looks like a permanently high plateau."
An interim bottom occurred on November 13, with the Dow closing at 198.6 that day. After that it began to seem that the crisis had passed. We focused on taking up our normal lives and preparing for a family holiday season. All four of the grandparents were aging, although generally healthy, and so we were grateful that we could all be together.
Johnny reported that a girl in his class had read a paper she had prepared about the inflation in the Wiemar period in Germany after the war. It seems that the government was not able to keep up with the payment of reparations that had been imposed on them by the Treaty of Versailles, and they began to print more marks in order to buy foreign currencies to service the debt and to pay workers.
She said that prices doubled again and again until workers were demanding to be paid each day so that they could spend the money before it lost its value. The government couldn't stop the inflation without bankrupting businesses and throwing everybody out of work, and causing starvation and the breakdown of order. But continuing inflation inevitably led to default on their foreign debt.
The class had laughed when the student told the story of the woman who had savings of six-hundred-thousand marks. In 1917, that was worth about sixty-thousand US dollars. In 1923 her bank sent her a letter saying that they were closing her account because her six-hundred-thousand marks was not enough to make it worth the bookkeeping.
The bank was returning her money, but since they couldn't make change for such a small amount, they were enclosing a one-million mark bill. She was surprised when she saw that the stamp on the envelope had cost one-million marks. The student had brought a library book with a photo of a man with a wheelbarrow full of paper money that the caption said was being exchanged for a loaf of bread.
Johnny was intrigued with how strange and almost comical this story was, but I felt a sense of dread at how powerful the money manipulations were and how frightening the loss of all stability could be. These people were desperate, and their lot had not very much improved in the intervening years. If anything, they had increasingly turned to the promises of the charismatic Adolph Hitler to restore their prospects and their dignity.
More than once in this period, Lorraine had noticed that I was preoccupied – pensive, even sad. I made light of my concerns for the world in general. But in my private thoughts, I wondered if I was experiencing some sort of mid-life questioning, wondering what it meant to have lived more than forty years and not to have accomplished anything that I could point to as a lasting contribution. I was happy in our marriage, and proud of the son we'd raised, but suddenly, I had self doubts.
It might have been that the time I spent in Hollywood with the band had an effect on me that I couldn't assimilate. I had been very impressed with the upward mobility that I had seen in the careers of singers and actors and even some of my fellow musicians. And here, I had to qualify that thought of fellow musicians. I knew I couldn't hold a candle to the talented players that Whiteman had assembled, and I was so lucky to have been able to work with them. Still, what did that say about what I should be doing with my life. And, if there was to be an economic downturn, how could I provide if there had to be cutbacks and the loss of work.
At dinner one Sunday I met an old friend of Lorraine's family who was a professor of ethics at Columbia. The conversation had turned to the subject of meditation. He explained:
"On a moonless night you can look up and see a thousand stars. You can recognize constellations and patterns in the sky. If you look out onto the lake you can see those same stars dancing on the rippling waters, but the patterns are obscured by the motion.
"In meditation you can see the surface of the lake slowly calm until the patterns of the stars are as clear as they are above. These patterns represent your deeper consciousness, your more complex understanding, your ability to resolve the world and your place in it to a greater extent; especially when you compare it to the relative chaos of our daily comings and goings.
"I'm not talking about magic, or magical powers. All people have the power of perception when it's available to them. At those moments of epiphany and insight, great moments of realization when one feels a sense of 'aha!, that's it! That's what I've needed to understand for so long.' Well, it's possible to provide for more of those moments, for a greater likelihood that those moments of wisdom are available to us.
"And when one is confident that the ability to sit in that quiet calm is close at hand, then it's possible to move in the world of hustle and bustle without the anxiety of being overcome by it. I hope it doesn't seem like I am trying to sell you something, only that I'm pointing out that there is another way to be, in the moment, and in life. That's why I spend time in quiet meditation. I simply provide for it."
© 2010, Compass Rose Music, BMI
To Track 15. "Good Old Wagon".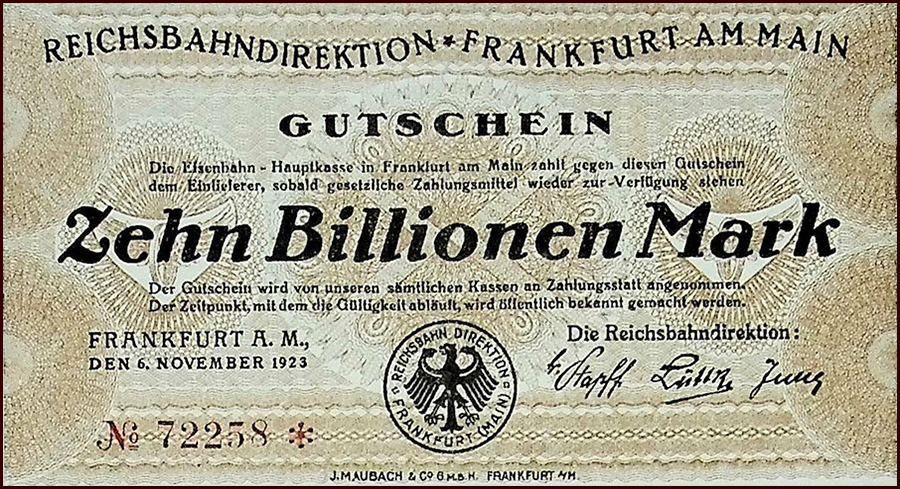 This is a German bank note for ten trillion marks. Billionen is German for trillion.