Unto You This Night
Words & Music by Rex Benson & Steve Gillette
"If I could work my will, every idiot who goes about with 'Merry Christmas' on his lips should be boiled with his own pudding, and buried with a stake of holly through his heart. Merry Christmas? Bah humbug!" – The words of the bitter, miserly Ebenezer Scrooge
Charles Dickens wrote his novella A Christmas Carol in 1843, at a time when the British people were especially nostalgic for the old traditions. In those early days of industrialization with its attendant poverty and child labor, Dickens used his pen to express the idea that a selfish man could redeem himself by becoming a more sympathetic person; a more loving person.
The gift of love, or expressing love by way of a gift, are themes of the traditions surrounding the observance of the holiday. As kids we were excited about the gifts and the treats, only much later to take up the themes of 'peace on Earth, good will toward men.'
I had a secure and comfortable childhood and really did not want for anything. Growing up in a pretty typical middle-class American home with younger siblings, two sisters and a brother, Christmas was a big event. As the oldest, I was the first to be initiated into being one of 'Santa's helpers' staying up late to help assemble toys for the younger ones.
Each year I would paint a stained glass Madonna and Child on the big window next to the front door. We were pretty ambitious with strings of lights too, and it was a rite of passage when one of us would be allowed to place the angel at the top of the tree, even if she had to be held up to reach it.
All of us raised in that tradition must have a similar nostalgia about Christmas morning with its surprises, and the family gatherings with extravagant food and drink, the excesses of consumerism and, 'visions of sugar plums;' memories that may be especially poignant in this time of the pandemic and its restrictions.
When Rex Benson and I talked about writing a Christmas song, it was easy to bring all of those memories into play, and as you can guess we drew from many of our shared traditions of the holiday.
In a previous article I mentioned that Rex and I wrote many songs for the Disney cable channel productions of "Winnie-the-Pooh" and "Dumbo's Flying Circus." The producers asked us to write two songs for a Christmas album which never was completed. We did write two songs, one was based on a title that Rex had which was "The Songs of the Season." When the album project was canceled we ended up with the two songs.
Rex has been very conscientious about seeking opportunities for our songs. He began to follow various industry publications including what he called a 'Nashville Pitch List,' a weekly sheet that shares news on which artists and producers are looking for songs and what kind of songs they need.
On one of the lists, Capital Records reported that Allen Reynolds was looking for songs for an artist we had not heard of named Garth Brooks. Rex had long been a fan of Allen Reynolds' work with Crystal Gayle, Johnny Rodriguez, and Kathy Mattea, so we knew that whoever this guy with the strange name was, he must be worth looking into.
There was a country music nightclub and restaurant in Santa Ana called the Crazy Horse. It was quite a successful place for the twenty years of its operation, taking over from the famous Palomino in North Hollywood and eight times chosen 'nightclub of the year' by the Academy of Country Music.
Part of that success was due to the excellent food, but also the personal touch of the owner, Fred Reiser, who cultivated long-term friendships with the performers and bands. It was the place to go to hear Merle Haggard, Waylon Jennings, Johnny Cash, Willie Nelson, Ray Charles, Tammy Wynette, Reba McEntire, Randy Travis, Clint Black, Ricky Skaggs, and some on their way up.
Rex would show up in the afternoons to help the bands load in, and offer to drive for errands to local music stores, hardware stores, malls, even the dentist on one occasion. And he would always send the tour buses off with a cassette of our songs at the end of the night. This was another aspect of Rex's admirable diligence, and it paid off more than once.
Rex met Garth briefly at a radio station, but finally got a chance to give him a tape on one of his return trips to the Crazy Horse. As Rex recalls, "by this time he'd had Number One singles with "If Tomorrow Never Comes," "The Dance," "Friends In Low Places," and his current single "Unanswered Prayers" was about to go Number One. He was on a fairly unprecedented roll in Country Music.
"Before long, I got word that he would be cutting a Christmas album. His label predicted that it would sell millions, and I was thinking about that song we had written a few years back, 'The Songs Of The Season,' and I finally had a chance to hand it to him when he came back to the Crazy Horse for a two-night booking.
"On the second night, Garth's drummer Mike Palmer grabbed me and said 'Garth listened to your song in the van last night and he likes it, you need to get a copy to Allen.' So I phoned Jim Rooney who was Allen Reynolds' partner at Forerunner Music, and who was producing an album for Steve, and he asked me to send a copy. A few days later he called me back and said, 'Allen likes it too, you've got a shot.' I was salivating – beyond hopeful.
"Two weeks later, Rooney called and he said 'Rex, they're not cutting your song.' I was absolutely gut-punched. I pitch songs for a living and rarely does a pass affect me, but this one about broke my heart and I was in a daze. I had to pick up the phone and call Steve, and let him know. He was on tour when I reached him and gave him the bad news. He asked me 'why are they passing?' and I said 'I don't know, they didn't say.' And he said 'let's write another song.'
"I was thinking to myself 'really?' I told Steve 'I don't know why they passed, or what they may still need' and he said 'let's come up with something' and I was thinking 'really? Come up with something?' and I hung up the phone.
"I can still remember trying to get my legs back under me. I started thinking about the situation and it occurred to me that there are basically three kinds of Christmas songs. There are 'hearth and home' songs like the one we had just given them, which they had liked, but which ultimately didn't work for them. There are 'jolly' songs ala 'Rudolph' and 'Frosty,' and there are the 'sacred' songs.
"So I went to the Titles list that I kept at the time. Many of the ideas were things my wife Judy had written down from an old movie or a bumper sticker or a billboard. Often I would look at that list and something would hit me. I came across the phrase 'A Child Is Born' and I remember thinking 'that's from The Gospel of Luke' and I went to the text and basically adapted a rough of the chorus lyric from the page. I had a preliminary version of the first verse and chorus, and I called Steve and played it for him over the phone. We finished writing it, basically over the phone."
My own recollection of the events is pretty similar. As Garth's recording sessions continued in Nashville, Rex and I were just about ready to record a demo of the song to send to them. Cindy and I finished up our dates in Northern California and came south. Carla Frederick, who had been the recording engineer for many of our songs for the Disney Channel, booked some time for us in the studio. Cindy played piano and sang harmony and I played guitar and sang the lead.
Rex remembers that we mixed the song directly to a cassette which he put into a Fedex envelope, the first time we had ever seen one, and sent it with a cover letter and a lyric sheet to Rooney within the hour of singing our last note. Three days later, on Friday, he heard the message on his answering machine that Garth had recorded the song.
It's still surprising to me that we took up the challenge and started right in on another song. I guess we were younger and hungrier than we are today. The odds of hitting the mark are, of course, infinitesimal. Maybe it's a good thing we didn't know then what we know now.
Later that year, Mike Boehm wrote a feature article in the Music section of the Los Angeles Times with the headline: "A Christmas Fit for Royalties: 'Unto You This Night,' co-written by Tustin's Rex Benson, is on Garth Brooks' new holiday album."
He was kind to devote several columns to our good news, although the 'local boys win the lottery' aspect of the story seemed to get the most attention. "Brooks, the country singer who has emerged as the hottest-selling pop figure of the '90s, told Billboard magazine recently that his label, Liberty Records, expects to sell 3 million copies by Christmas. That would translate into a six-figure songwriters' royalty for Benson and Gillette to divide."
You can read the article here.
One of the stories that didn't make the article was about the night that Rex first heard their finished recording with Tricia Yearwood singing harmony along with a twenty-five voice gospel choir.
"Garth grabbed me and said 'let's go hear your cut.' He and his band had finished taping The Tonight Show with Jay Leno earlier, and had come down for dinner, all on one bus, and he escorted me on. Must have been 20 people crammed on there. He sat me down on the sweet spot on the couch, between the speakers, and sitting between his mom and dad.
"And it was church silent, everyone knew he was honoring one of the songwriters, and they knew that was important to Garth. He played me the finished version and I was absolutely overcome, I didn't know whether to laugh or cry, but I was very emotional, and Garth's mom said to me, 'Oh you like that song?' and Garth's sister Betsy said, 'Mom, Rex wrote that song. Well actually Steve and Rex (and Luke) wrote that song.'"
Our song is pretty simple in structure. Basically two verses and choruses, but it does employ something that we had never used up to that point. It's what's called a 'pre-chorus' or sometimes called a 'lift.' It's a short section of two lines that builds from the verse to lift the energy so that the chorus begins at a place of greater excitement.
After the verse which sets the scene, the two-line pre-chorus seems to bring the song to a standstill, a point of reflection where it's as if we're waiting for the light to change at an intersection. The two lines are sung over the same chords, A minor and D major, but the melody lands on the root of the chord at the end of the second line as if to change the light to green and send us on into the chorus.
And from there the chorus begins with a walk up the scale to deliver the word 'glory' on a strong beat and a high note, and with a very positive, major feeling in the harmony. Just the kind of treatment you would use to emphasize a phrase like 'Glory to God in the highest.' The use of a mixture of major and minor chords in the verses works to set up this progression toward an emphatic statement.
One other feature of interest is the use of an unexpected chord at the mid-point of the chorus. The B seventh chord is striking, and again, builds energy. I think the best explanation for this chord is along the lines of the 'borrowed dominants' that we have talked about in previous articles. A dominant chord has a tendency to lead toward a sense of resolution with the chord that follows, either a major chord or a minor chord.
The dominant chord of the key the song is in, based on the fifth scale degree, tends to call for a resolution to the tonic chord of the key. The borrowed dominant can be from any key, related or not to the tonic chord, but can lead to its own sense of resolution, in this case leading us to the E minor at the beginning of the second half of the chorus, giving the chorus some new energy.
In the key of G, the chord built on the third note of the scale, the B, would normally be a minor chord. Changing this chord to a B major gives the song a definite point of interest, and makes the E minor which follows it more dramatic.
Here's a video I made of a version of the song by Cindy's trio with Anne Hills and Priscilla Herdman. Footage of the trio is from their concert at the Eighth Step Coffeehouse at Proctor's Music Hall in Schenectady, New York in December 2012.
Herdman, Hills & Mangsen perform "Unto You This Night"
And here's a video by someone we don't know named Tony Orlandi which uses the track from Garth Brooks' CD, Beyond the Season.
The song is on the Herdman, Hills and Mangsen CD Voices of Winter, available at Compass Rose Music.
There is also sheet music of the song in the Steve Gillette Songbook also at Compass Rose Music.
Here are the lyrics and chords:
On a Gnight so long ago, by the Dlight of one bright star
Two Emweary travelers far from GaliClee, D
Took Grefuge in a stable where a Dlittle child was born
To Embring the gift of love to you and Cme.

And when the Amangels told the shepherds of his Dbirth
There Amcame a great rejoicing on the DEarth

Saying, "CGlory to God in the Ghighest" Em
In the Amdawn of that Dfirst Christmas Gmorn B7

EmPeace on CEarth, good Bmtidings of great Emjoy,
For Amunto you this Dnight a child is Gborn.

And lo these many years since then that ancient star still guides us
And now, again our Christmas voices ring
Blessed we are and safe at home with loved ones here beside us
And in the deep and silent night we sing

That the angels told the shepherds of his birth
And there came a great rejoicing on the Earth

Saying, "Glory to God in the highest"
In the dawn of that first Christmas morn.
Peace on Earth, good tidings of great joy,
For unto you this night a child is born
For unto you this night a child is born.


© 1992 Foreshadow Songs, Inc. / Rex Benson Music, BMI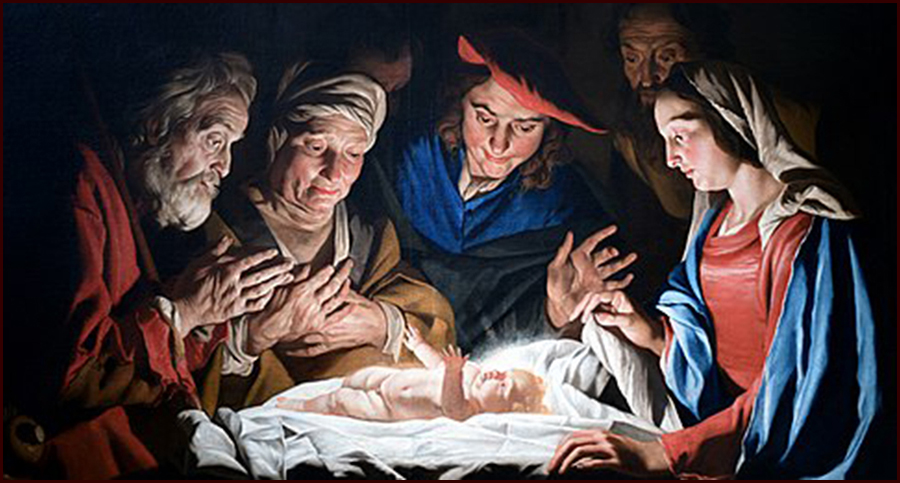 The Adoration of the Shepherds — Matthias Stomer