The Man is an audio novel set in the first decades of the 20th century
The stories and original songs are written by Steve Gillette
Track 20. "The Sunny Side of the Street" Your browser does not support the audio element.
The Song:
"On the Sunny Side of the Street" was composed by Jimmy McHugh with lyrics by Dorothy Fields in 1930. Some authors say that Fats Waller was the original composer, but had sold the rights to the song. This is something that he did, and there's a pretty impressive list of songs in that category that have gone on to become standards.
Jimmy McHugh was a very successful composer in his own right. His songs have appeared in hundreds of films and have have been recorded by dozens of major artists. His first hit song was "When My Sugar Walks Down the Street" in 1924.
Dorothy Fields was the first woman inducted into the Songwriters Hall of Fame and she also has her own US postage stamp. In her seven years of collaboration with McHugh they wrote "I Can't Give You Anything But Love," "Don't Blame Me," and "I'm in the Mood for Love." She later won an Academy Award for "The Way You Look Tonight."
"On the Sunny Side of the Street" was recorded by Billie Holiday, Bing Crosby, Judy Garland, Nat King Cole, Jo Stafford, Tommy Dorsey and so many others. Here is a wonderful version of the song by Louis Armstrong, and an equally satisfying rendition by Ella Fitzgerald with the Count Basie Orchestra.
It's a bright tune with some nice, unexpected features. The climb at the end of the first line with the leap to the tenth scale degree is exciting and infectious. It's that kind of fresh interval that can make a song distinctive and memorable. The use of the circle of fifths, the chain of borrowed dominant chords in the bridge, is very effective, and the diminished chord has a nice way of pulling things together at the end. Here are the chords in the key of C:
G7Grab your Ccoat and get your E7hat,
Leave your Fworries on the G7doorstep.
AmJust direct your D7feet
To the Dm7sunny G7side of the Cstreet. G7

Can't you Chear that pitter E7pat
That Fhappy tune is G7your step.
AmLife can be so D7sweet
On the Dm7sunny G7side of the Cstreet.

I used to C7walk Gm7in the C7shade
With my Fblues C7on paFrade.
But D7I'm Am7not aD7fraid, this G7rover, Gdimcrossed G7over.

If C I never had a E7cent,
I'd be Frich as RockeG7feller.
AmGold dust at my D7feet
On the Dm7sunny G7side of the Cstreet.


On our recording of the song, George C. Gillette plays solo piano and stands in for Old Jack. After all, it was he who inspired the story of The Man.
From the Book:
Lorraine would always say, "Danny Murrow, you're a diamond in the rough." I could never decide if she was thinking about the diamond or the rough. More time to think about all that now.
It was hard to get the fire going in the wood stove this morning. All the wood's pretty wet. It's been miserable the last few days, but sunny and crisp now. Beautiful, if you can stand the cold. This old house was built more than a hundred years ago in 1843.
It's so quiet here, since Rainy's gone. It's just me and her books and my music. I've just got a couple more charts to finish and then I'll take the local down to Albany and catch the night train to California. The studio will pay for a sleeper if I don't do the round trip more than once a year. I'll be in LA by Friday.
That's about as often as I can stand to go. It's good to walk in the sun, but I don't look forward to donning the hair shirt again. It's hard to live in a town like Hollywood without your loyalties being pretty well known. There are a lot of people I won't work with again, and not many are pained by that fact.
I do alright. I'm just a tune man, a journeyman, not really concerned with who gets the credit or the money. At least I'm spared the committee process. I'm happy to let others decide what it represents and how it plays on the screen, I just focus on the notes. I guess that's why it comes so easily. I don't ask for more than just that it comes.
A strange thing started happening a few years ago. A gift, certainly, but a heavy handed one. It comes to me as I walk, sometimes so furiously, so relentlessly that I don't even know where I am. Sometimes it's all I can do just to stand up and stay out of the road. They say it afflicted Schumann, that it got so bad at the end of his life that all he could hear was a single tone, a constant "A."
To me it's just one rushing-swirling mass of sound, chants, fugues, operas, symphonies. I recognize a lot of it, not that I'm stealing it, but I know where it comes from, mine, theirs, all of it. It comes from listening over a lifetime, and from giving myself to it so completely that I make no claim to it.
It comes from someplace else as well — that mysterious sidereal opus that so many have tried to circumscribe. Superstition seems to have occupied that territory, and I'm not the one to dispel it. But then I don't need an explanation, any more than a young bridegroom needs to be told why he's a fortunate man.
I miss Rainy. It's been ten years. We had such a good life together. Very privileged as a child, she learned to live with me on the slender means I could provide, and made it seem like success. She brought the day to me in a form that I could handle.
She had a surprising worldliness. I used to tease her that she was contributing to the delinquency of a minor talent. She had embraced a complicated world with a sense of balance and proportion that inspired me to be more patient with it. She was my guide. Since she's gone, I walk only the familiar paths.
I'm not alone; I have my brother Johnny's family and Lorraine's mom and dad and Mary and Jack. Jack, at 82 years old, amazes everybody with his energy. My nieces are both married, one has a son and one a daughter. I still get to New York a few times a year, and as you can imagine, those family gatherings have become pretty big events.
The great storm of war has moved on out of our lives finally. I'm not sure what we expected, but the return to normal is not really normal at all. I suppose we should have known that such a mobilization for destruction and vengeance would take a while to play out even after the much vaunted justice of Nuremberg.
This week there was an article in the Times about George Kennan who has just returned from his assignment in Moscow. It was a condensation of an eight-thousand word telegram in which he asserted that the Soviets were determined to engage the West in a confrontation between capitalism and communism.
He wrote. "This political force has complete power of disposition over energies of one of world's greatest peoples and resources of world's richest national territory, and is borne along by deep and powerful currents of Russian nationalism." And just last February, former British Prime Minister Churchill, in a speech at Westminster College in Fulton, Missouri, warned of Soviet expansion. He said that an "iron curtain" had descended across the European continent, "from Stettin in the Baltic to Trieste in the Adriatic."
The postwar peace appears to be slipping away. As much as Roosevelt and Churchill had wanted to avoid repeating the mistakes made at the end of the First World War, the devastation of this war has left the world in a ragged and unstable state. Nearly three-hundred-thousand Americans died in the conflict, but the Russians lost twenty-seven million. Much of Europe and Asia has been ravaged. From the ruins a new order is emerging.
In Latin America, Africa, and Asia, populations that had been colonies of the European powers are beginning to strive for their independence. They mean to choose their own political and economic futures. But, in a newly bipolar world, that now means choosing between democracy and authoritarianism, capitalism and communism.
As we move further into the post war era, Americans are being subjected to this theme of polarization. Some in the media have begun to identify us as citizens of the "free world." As we approach the 1946 midterm elections, conservatives are characterizing the contest as a choice between "Americanism and Communism."
In 1940, when Roosevelt pledged to make the United States an "arsenal of democracy," he meant wartime production. Now it seems that more people are questioning the wisdom of a commitment to military supremacy, and whether that might actually lead to a garrison state, after all the sacrifices of a war to make the world safe for democracy.
My brother Johnny has continued to work in the music business. He still plays dates, but mostly works as a producer and arranger. He was the first to bring the names of some of the new, younger players to my attention.
They were the next generation who would take over for all those wonderful musical giants we knew from the pre-war days, what they were now calling the 'swing-era.' Duke Ellington had said, "Swing is my beat. Not jazz in the popular sense of the word, which usually means a chatty combination of instruments knocking out a tune." But he said that before bebop came to town.
Names that we began to associate with this new wave of musical experimentation were: Charlie Parker, who handles the alto sax with astonishing musicality; Dexter Gordon and Sonny Rollins on the tenor sax; Miles Davis and Dizzy Gillespie on trumpet. Bud Powell, Mary Lou Williams, and Thelonious Monk all are able to express so many of these innovative stylistic colors on the piano. On the guitar which was now almost exclusively electrified Charlie Christian and Joe Pass stand out, and Kenny Clarke, Max Roach, and Art Blakey are often present on the drums.
These individuals are the moving edge of innovation taking the playing and the ideas to a new level. My brother Johnny had to laugh as he described the sessions where he was only able to capture a portion of the amazing music that was happening in the studio, and wishing he could record hours of what seemed like inspired genius.
He said that Gillespie was not only a spectacular performer on the trumpet, but that he understood the theory of what he and Parker were into, the complex substitutions of chords and modes, but unfolding spontaneously, as they called out to each other chasing down fresh scales, major and minor, Phrygian and Lydian. It all didn't seem to have any rules, and yet, as they played they would signal each other with new ideas, and occasionally each would mimic the other. He said he was thrilled by it, but could understand how it sounded just too advanced to some. There were certainly a lot of voices complaining that it was noise.
Bebop is not intended for dancing, so it's characterized by faster tempos and more strident harmonies. The phrasing of musical themes is asymmetrical and syncopated. Harmonically, chords are altered with flatted fifths or ninths and sharp ninth intervals, tritones and sharp elevenths.
The bebop major scale or the major sixth diminished scale is derived from the normal major scale, the Ionian mode, and has a chromatic passing tone between the 5th and 6th notes. The bebop melodic minor scale or the minor sixth diminished scale is derived from the ascending form of the melodic minor scale, the jazz minor scale, and has a chromatic passing tone between the 5th and 6th notes.
The bebop harmonic minor scale is derived from the harmonic minor scale and has a chromatic passing tone between the 6th and the 7th notes. The seventh flat 5 diminished scale is derived from the whole tone scale, with an added fourth and a natural seventh degree. Of course, in performance, nobody is thinking of these particular representations of theory, playing is in the moment, naturally expressive of years of musical exploration.
Before he died in December of 1944, my son Johnny wrote about some of the music he'd been hearing on the Army's V-disc recordings. He said that this new music had a great appeal with younger soldiers. It was one of his duties to distribute materials of education and morale-building among the troops stationed in England. Some would be sent to France in the D-Day invasion just a few months off.
V-discs, or Victory discs, were recordings that were not sold commercially, they were just for the military Special Services officers to distribute overseas. By contract, the master plates had to be destroyed to honor the performers' agreements with the record companies. Artists like Louis Armstrong, Art Tatum, even Glenn Miller would include personal messages of encouragement to the soldiers.
One aspect of this music which was now straining at the limits of the term 'jazz,' was that it challenged the comfort of conventional phrasing and harmony. It was spontaneous to the point of being insolent. "You say bop, I say bebop." One could hear that a lot of it came out of scat singing. Louis Armstrong and Cab Calloway had popularized scat on record and even in the movies, and the bebop players were ready to take their instruments into that territory. From their long duo relationship in the Earl Hines and Billy Ekstein bands, Gillespie and Parker were well able to leave everybody else in their dust.
You could hear this music evolving in after-hours clubs and late-night jam sessions in Harlem where the players might include Gillespie and Parker, Thelonious Monk at the piano, Charlie Christian on guitar, and Kenny Clarke on the drums. We had heard a lot of the young, talented, hungry musicians complain that those 'downtown' players, the Tin Pan Alley darlings with the big record contracts, come 'uptown' to steal our music. Monk said, "We're going to create something they can't steal, because they can't play it."
My brother told me about a session that he was privileged to attend in November of 1945. Parker led his own group, naming themselves for the session, 'Charlie Parker's Reboppers.' The Savoy label later touted it as the "greatest Jazz session ever." Parker enlisted Gillespie and Miles Davis on trumpet, Curley Russell on bass, and Max Roach on drums.
Parker had a surprisingly diverse knowledge of music theory. He had studied the music of Bartók and Schoenberg, and he had a practical approach to the twelve-tone theories, that previously we'd only heard professional arrangers like Ferde Grofé and Don Henderson talk about. And even then, it was a discussion which would have to take place with some hands on the keyboard, and a dedicated attention span. I had to admit that I was more of an 'intuition' composer, I spent much of my day whistling ideas.
There is one other aspect of this line of thinking that I'm reluctant to try to express. It's that in any discussion of 'serious' music, we are invariably brought to the work of a handful of very white, mostly German, Austrian, English and Polish composers who lived by the patronage of kings, and created music within a very strict social context. The history of American musicians could be portrayed as at least partly in rebellion to that model, and with young Negro musicians especially, a rejection of all but the most musical goods.
Charlie Parker had a difficult history with automobiles. He once ran over a chicken which earned him the nickname 'yardbird.' In a much more ominous episode, in the fall of 1936, as he traveled with a band from Kansas City to the Ozarks for the opening of Clarence Musser's Tavern at Eldon, Missouri, he was in a bad accident and suffered three broken ribs and a fractured vertebrae. This led to problems with chronic pain and pain killers, alcohol, opioids, and heroin. He was vulnerable to drug use for the rest of his life.
Last December, he took his band out to Los Angeles to play a disappointing engagement for Billy Berg's club. He was always subject to depression and was never secure in his struggle with addiction. When most of the group returned to New York, he remained in California. He cashed in his return ticket to buy heroin. He fell into a downward spiral of money and legal troubles and was eventually committed to Camarillo State Mental Hospital. He returned to New York, clean and sober, but couldn't manage to stay that way, last I heard.
It might be because I'm getting older, but lately I've had some dream-like visions of my earliest days. Long before coming to consciousness, which I estimate to have been in my teen years, I have memories that are more like nightmare impressions, terrors that could not be tamed by logical thought, but that lurk in a place that is still a part of me.
I remember looking for the man they called the mayor of Farragut Street. Sometimes he was easy to find, sometimes not. I didn't know him very long, he died pretty soon after I found him. Then, no one seemed to know that he was gone.
He didn't have anything worth stealing. It saddens me to admit that I once made that inventory, and decided that the wool cap was the only thing that would fit me. He never had money, but food seemed to appear, and he was never unwilling to share.
He would measure the need of his companions against the prospect of another crust of bread being offered up to him by the gods. Somehow he was never without. In his presence I felt a diminishment of fear, although I never put the thought into words, I think I saw him as someone who might take care of me.
Someone asked him once if he was going to church, since there was the offer of a meal if a man was willing to listen to a sermon. He quoted these lines which I found out later were from the poet Emily Dickinson: "Some seek the Sabbath going to Church, I keep it staying at home, With a bobolink for a chorister, And an orchard for dome."
He would disappear at times. It was rumored that there was a lodge that recognized a connection with him from some relationship, possibly military, in the distant past. They would give him the occasional garment or stipend, but whatever he received was quickly passed along, and never did any coins accumulate in his ragged pockets. Some thought he could materialize money or even food. I never knew the extent of his powers, only that he seemed perfectly powerless, yet somehow buoyant on the sea of the times.
His presence was a refuge, an improvement from my most recent hiding place. There was a small attic accessible from a landing on the top floor of a crumbling tenement that afforded some privacy, but, for one such as my eight-year-old self, might harbor a terrible danger. I would sit on the landing below the top floor for some long time listening to the sound of the old house before I would venture up the rotted and complaining steps to the hiding place in the alcove — only when I was sure it wasn't already occupied.
© 2010, Compass Rose Music
Return To Track 1. "Conversion on 13th Avenue"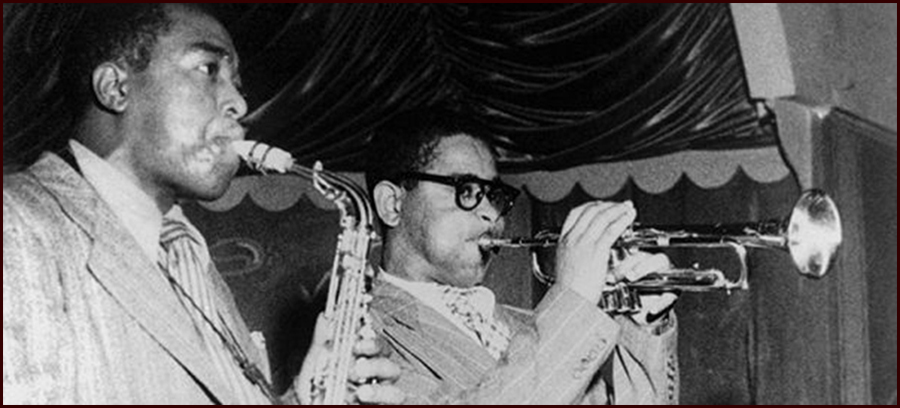 Charlie Parker and Dizzy Gillespie