The Man is an audio novel set in the first decades of the 20th century
The stories and original songs are written by Steve Gillette
Track 5. "Sunday" Your browser does not support the audio element.
Narration:
Besides the pain of losing Betty, Johnny was very troubled by his brush with death. Jack and Mary needed to let him know that he had always been the center of their world. They felt a new appreciation for the precious joy of family life.
For his part, Jack knew full well the elements of the underworld that were denizens of the night life. He wanted something better for his boys.
On questions of mortality, Jack was pretty forthright about his beliefs. He had no use for preaching. He swore that his days on the revival circuit had soured him for what he called, 'snake oil tonic and sixteen John.' His idea of a perfect Sunday involved nothing more than the windows wide open to a summer morning breeze and the sounds of the piano drifting into the street. The music was his church.
© 2010, Compass Rose Music, BMI
The Music:
"Sunday" is a 1926 song written by Chester Conn, with lyrics by Jule Styne, Bennie Krueger and Ned Miller, which has become a jazz standard. The Jazz Discography Online lists 497 recording sessions for it, with versions by Frank Sinatra, Bing Crosby, Kay Starr and Carmen McRae.
Jule Styne also wrote "Everything's Comin' Up Roses" with Stephen Sondheim; he wrote "People" with Bob Merrill for Funny Girl, and also "Let it Snow" with Sammy Cahn, written on a sweltering hot day in Los Angeles.
Consider what a happy melody this is. It's a good vehicle for lyrics. The two strong syllables at the beginning followed by a catchy phrase of syncopated eighth notes give it a definite swing. You can hear the implied triplets even though it is notated in straight 4/4 time.
The simple notation is not quite adequate to show the swing that is heard when a little anticipation and emphasis is given to certain notes. Try hitting the second note of bars three, five and seven a little harder and you should get some idea of how this tune swings.

In this version of the song, old Jack has left out the second eight-bar section, but most other versions repeat this line. Jack would play medleys of well-known tunes and was always conscious of the attention span of his listeners — or maybe it was his own attention span. Seemed like we learned a lot of the standards in these 'shorthand' versions.
As in so many other songs we've taken up, once the theme has been expressed twice, our ears are ready for something new. So it makes sense that this song, too, would move into a new melodic territory. But rather than just go up the scale to the IV chord or the vi chord or some other similar and familiar device, the composer has taken another, more sophisticated approach.
The circle of fifths is a great resource, and has been used in a very direct way in this song. The scheme for the writer in this instance is to end this section on the dominant or V chord of the key. Since this version of the song is in the key of C that means that the V chord will be G, often a G7.
To manage this, the composer has created a harmonic progression which approaches the G from its V chord which is D. The D chord is preceded by its V chord which is A. And of course the A is preceded by its V chord, E. So the E chord is the surprise jump that brings this section of the song to life.
The progression, which devotes two bars to each of the chords from that quarter of the circle of fifths, ends with us coming to rest on the G. Then the song goes back to the original theme for the last eight bars. This form is found in many songs; one of the most familiar is "Has Anybody Seen My Girl?" (Five foot two, eyes of blue) from 1914.
From the book:
In the course of learning and performing hundreds of tunes, popular songs, even some classical pieces, we really did begin to acquire a sound of our own. Johnny was much more capable of emulating Chopin or Debussy, I would just try to stay out of the way with a simple bass line or chordal tremolo figure. But with so much music being played, it just naturally followed that some of it would reflect our own creative efforts.
We had a few tunes that we really liked. Most of the ones we'd written weren't far enough from the pieces that inspired them to escape being recognized, but we had some genuine ideas of our own and we began to have hopes that they could have a life.
What we really needed was a lyricist. Neither Johnny or I felt confident enough to write lyrics to our songs. Some of the songs inspired titles that seemed to fit, or seemed to have potential as a line of thinking that the lyrics might follow. That was a long way from the wit and savvy that we heard in popular songs of the day. We knew there was a dimension that neither of us could provide having to do with catching the listener's ear with some adroit word play.
Johnny would make the rounds of the publishing offices, hoping to attract some interest in our tunes. Johnny was the right one to be doing that. Besides the fact that he was the good-looking one, his playing was so flawless and engaging that it was clear to us that our hopes rested well on his ability to communicate on the piano.
By this time most of the music companies had moved up from Union Square to West 28th Street between Broadway and Sixth Avenue. Leo E. Berliner was at number 42, Wandersloot Music at 46, Myll Brothers at 48 and York Music at 50. On the other side of the street at number 37 was Harry Von Tilzer where "Take Me Out to the Ball Game was published in 1908. The William Morris Agency was at number 43, Shapiro, Bernstein and Remick at 45. George Gershwin was a "song plugger" for Remick. "In the Good Old Summer Time" was published by Dresser Music at 51 W. 28th, and Isadore Witmark and his three sons were at 49 W. 28th before moving up to 144 W. 37th.
There was a piano in every publishing office, sometimes two or three, and composers would try to impress the publishers with their 'chops' in their effort to promote themselves and their tunes. Few of them wrote lyrics, it was almost always up to the publisher to pair the composer with a lyricist, and as we know some of those pairs created lasting magic. We knew it was just a matter of time before we had cracked the code of memorable melodies, and found the wordsmith who could bring our songs to life.
Irving Berlin was one of the exceptions to this composer/lyricist rule. We knew him as an energetic young guy, working as a singing waiter. He would vocalize some of the current hits for his customers, and then would occasionally improvise some suggestive lyrics to those familiar songs. When he was just in his early twenties his fortunes changed in a big way when his song, "Alexander's Ragtime Band," more of a march than a rag, became a huge hit in 1911. He went on to write over fifteen-hundred songs.
It seemed to us that he couldn't read music, but he had taught himself to play piano. Everything he wrote though, was in the key of F♯. That may seem strange, but it meant that much of the time his melodies only used the black keys. In later years, he had a special piano built for him that allowed him to shift the action to the left or right so that playing in the fingering of F♯, he could accompany a song in any key.
Using only the black keys you can play a pentatonic scale. This is the basis of many popular tunes and classical pieces too. It's a scale of just five notes with the occasional added white key when it was needed to distinguish the melody. "Amazing Grace" and "Buffalo Gals" come to mind. I remember Johnny trying to explain to me why the seventh note in the F♯ scale was called E♯ even though it was played on the F key. That took some thinking. Chopin's Etude in G-flat major uses the same black keys, but again, there was room for confusion as I tried to make sense of sharps and flats. It was dawning on me that it might be time for me to learn more about music theory.
George M. Cohan had grown up in Vaudeville in a family act with his mother and father and his sister. He wrote songs for them to perform. In 1904 he had written the show Little Johnny Jones, which introduced "Give My Regards to Broadway" and "The Yankee Doodle Boy." Everybody knew those songs, and everybody we knew had heard somebody repeat his famous curtain call, "My mother thanks you, my father thanks you, my sister thanks you, and I thank you."
Johnny was persistent, we would make sure that he had the goods before he asked to be heard. He would never push his luck, he was very respectful of the publisher's time, and listened for clues to what the publisher was looking for. In the course of a few visits to the Von Tilzer office he got to know the receptionist whose name was Amy.
Amy was a very confident person; she had a good sense of humor and a forthright way of dealing with people. The first time he went into the office he liked her immediately. He went out of his way to drop by, to say hello and to see about setting up another appointment. She seemed to be aware that he was curious about her in that other way as well.
He stopped by late one morning. It was almost noon, and she asked him if he'd like to walk down to the corner and have a sandwich, "Dutch treat," she said, clearly implying that neither of them should be indebted to the other for lunch, or for any other special consideration in that office if that was an issue. At any rate, she wanted to sort out the variables as far as dating and business might be concerned.
At lunch she was funny and sweet, but somehow keeping a distance — not affected by Johnny's charm, and he was by then a mature young swain of considerable charm. He was a little puzzled, but not put off. At the same time he was curious, it did seem that there was another dimension to their encounter that he didn't quite get.
As the hour drew to a close, she asked him for his address, which seemed strange to him, but he was glad to write it down, even if it only meant that he would be on file with the Von Tilzer office and possibly contacted for some opportunity. He felt that Amy was in his corner and in some way, he was in her hands. He was happy to comply.
A few days later he received a letter, and it was a revelation. Amy had known Betty Austin. She said that Betty had applied for a job and had used her sister-in-law as a reference. She gave Johnny an address in Kansas where she thought Betty could be reached. She knew about Johnny's injury and Betty's escape, and she wanted Johnny to be able to write to Betty. It had been five years, no one had heard anything about Billy Iron for a long time, and it was likely that he was no longer living. Who could say what had happened with Betty in all that time? Maybe she had found someone, maybe she had children, Johnny had to know.
Happily, they had a wonderful correspondence. It was almost better than being together in New York. The distance made it easier for each one of them to express their thoughts and over time they had established a friendly dialog that produced what could only be characterized as love letters.
Johnny was grateful to Amy, and they continued to have a friendship as he worked with publishers on the row and would stop by the Von Tilzer office to say hello. Once he asked Amy if she'd like to meet his brother, Danny. At that point she felt she had to explain to him that she already had someone, and beyond that, she wanted him to know that she was a woman who loved another woman.
She hoped that wouldn't be a problem for Johnny and he was quick to reassure her. Again he was grateful to her for setting him straight, for relieving him of the mystery that arose on their first encounter, and glad to know that she was comfortable enough in their friendship to confide in him.
By Christmas of 1912, Betty was ready to come back to New York, and she and Johnny were married in St. Emanuel's Church with all of us in attendance. Jack was funny as he luxuriated in the opulent surroundings of a cathedral he would never have set foot in, even though it was only a few blocks from home. Within a year Johnny and Betty had a daughter, and one more daughter a year and a half later. Mary was positively in heaven with her new role as grandmother, and Jack could not have been more delighted with these additions to his family.
Soon events that were taking place nearly two thousand miles away would change the course of my life forever.
On April 20th, 1914 things took a turn for the worse in a labor dispute at the mine at Ludlow, Colorado. Two National Guard companies had been brought in to put down the strike and they were stationed in the hills overlooking the large tent colony of strikers. The miners had gone out on strike the previous September, and almost immediately all were evicted from the houses owned by the coal company.
The little makeshift tent city housed a thousand men, women and children. They had endured the harsh Colorado winter, and were now facing legions of armed troops. In the morning a machine gun attack began and some of the strikers fired back. As the exchange intensified, the miners and their women and children dug pits beneath the tents to try to escape the gunfire.
At dusk, the Guard moved down from the hills with torches and set fire to the tents. The following morning, a telephone linesman going through the ruins of the tent colony, lifted an iron cot covering a pit in the ashes and rubble of one of the tents and found the charred bodies of eleven children and two women. This grisly discovery became known as the Ludlow Massacre, and the news of it spread all across the country.
There were demonstrations everywhere. Five thousand people stood in the rain on the lawn in front of the state capital at Denver demanding that the National Guard officers be tried for murder, and denouncing the Governor as an accessory. Pickets marched in front of the Rockefeller offices at 26 Broadway. John D. Rockefeller Jr., who had been trying to rehabilitate his father's terrible public image, attempted to bring some peace to the conflict.
In New York there was a disturbance in front of a church on 5th Avenue where the senior Rockefeller had been known to give an occasional sermon. A minister protesting there was attacked and beaten by the police. A young woman came to his aid, and as I stepped up to see what was going on, the officer swung his club at her and she went down hard on the sidewalk.
I moved forward and tried to lift her to her feet, but she crumpled, unconscious. Just then the cop lunged at us and swung hard. Half standing, half crouching I put one foot in his gut and he went over backward. In the commotion I was able to lift the girl and move across the street.
Her friend, whose name was Alice, came running to help. There was a clinic about a block away, and we took her there. The doctor said that there didn't appear to be anything broken, but that the continuing loss of consciousness was always cause for serious concern. Alice told me that our sleeping beauty's name was Lorraine, and that she would notify her parents who lived uptown near The Cloisters.
I sat with her for several hours, but she didn't stir. I had to leave to get to work, and wasn't able to get back until the morning. She had awakened to the great relief of all of us, and stupidly, I burst into tears when I saw her. Alice and Lorraine's mother sat there, and the two of them laughed when they saw my emotional display. After all, we didn't know each other at all.
She looked truly pathetic. One side of her face was so swollen, and purple, and with a couple of small stitches covered with a bandage, she really looked like she had been in a fight. The doctor said that he was worried that she might have other effects from the blow and the fall, and that she should not be allowed to leave the clinic unless it was to move to the hospital that her parents had requested.
She allowed me to visit her for several days until she did move uptown to Columbia Hospital and I was able to see her for the week she spent there too. She was a teacher, her father a professor at Columbia, and both of them very active in political affairs. She had come to the church in support of the minister who led the protest. She was very aware of the Ludlow Massacre and of many of the events leading up to it, including the involvement of the Rockefeller family.
She was, it seemed to me, so knowledgeable about the struggles of the decade, and much beyond. I admired her commitment, but really had no personal feelings to bring to the movement. I always considered myself to be above the fray, glad that I didn't have to stand in the lineups for work at the docks or construction sites around the city. I wasn't to join the musician's union until I went to work for Paul Whiteman several years later.
Our courtship involved sharing my family and my music family with her, and spending time with her family and seeing quite another way of being in the world. Her father and mother were both very well educated and exemplary people. At their table I met other professors and members of the academic and cultural circles. I tried to be a good listener, and recognized that there was a lot for me to learn to be a part of her world.
The song, "Take Me Out to the Ballgame," had been adopted by the baseball teams, and we would sing it when I took her to a game. To my surprise Lorraine understood more about baseball than I did, although she didn't know as much about the players since she hadn't followed the games for years. I had been thinking of them as heroic, but through her eyes, it did seem that it was after all, only a game. Still we found that we had such fun together, and all of the emotion of the fans seemed like background to our modest love story.
Margaret Sanger began to publish her newspaper, The Woman Rebel in 1914, and Rainy became an avid reader. The motto of the paper, which startled me at the time was, "No Gods, No Masters!"
© 2012, Compass Rose Music, BMI
To Track 6. "Sweet Lorraine" - "Ain't Misbehavin'".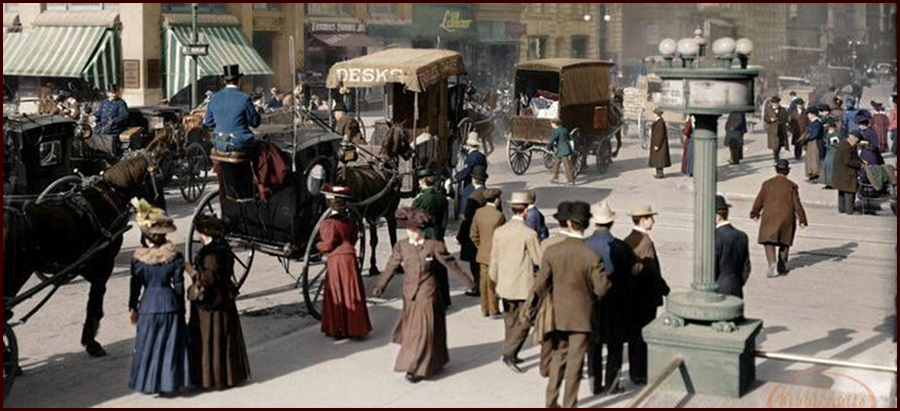 Sunday in New York.