Rudy's Big Adventure
Words & Music by Cindy Mangsen
The British have a lively tradition of humorous songs. Many of them rely on a style of story-telling that traces a convoluted series of events, one thing leading to another, the result being consternation and hilarity. Often the last bit will be the topper or capper that Vaudeville and burlesque comics often employed. Lots to be said and written on the subject, but this week's article is about a contemporary song which exhibits some mastery of these traits. It's a song about a cat who has the misfortune to stick his head into the flange of the garbage disposal after a bit of salmon skin, and is not able to pull it out. Much mayhem ensues.
One famous song which has been a model for these songs is "The Cat Came Back" written by Harry S. Miller in 1893. The song told of Old Mister Johnson who had a cat that he tried to get rid of. But no matter what he did, and this involved a series of escalating measures, the cat always came back. He "thought he were a goner, but the cat came back." Even when the cat dropped dead after hearing an organ grinder play "Ta-rah-dah-boom-da-rah," (which I'm guessing was an inside joke to the music hall crowd), the cat's ghost came back.
Michael Flanders and Donald Swann wrote and performed over a hundred songs together. Occasionally they would delve into a sentimental or sweet song, but mostly their songs are wonderfully funny. I mentioned in an earlier article that Lou Gottlieb, the spokesman for the Limeliters, gave Michael Flanders credit for his over-the-top professorial introductions to songs like "Have Some Madeira M'Dear?," a song from Flanders and Swann.
Peter Berryman gave us CDs of the complete works of the duo, and they are something to go to school on, both lyrically and melodically. Songs like "The Hippopotomus Song" and "The Reluctant Cannibal" are true classics of comic writing. Many have sung their song, "The Gas Man Cometh." We first heard it done by Faith Petric. grande dame of the San Francisco Folk Music Society. It tells a convoluted story with many clever twists and turns.
'Twas on a Monday morning
The gas man came to call
The gas tap wouldn't turn, I wasn't getting gas at all
He tore out all the skirting boards to try and find the main
And I had to call a carpenter to put them back again
Oh, it all makes work for the working man to do!
In the next verse the carpenter shows up to repair the skirting boards but then he nails through a cable and puts out all the lights. The electrician comes next, but as he stand on the bin to reach the fuse box he puts his foot through a window. Then the glazier comes by to replace the window pane, but leaves the wall in need of some paint. Of course, the painter paints over the gas tap and it won't turn on, requiring the return of the gas man.
Cindy Mangsen has written a song which draws from that tradition of story-telling and convoluted mishaps, and it has been very well received. It involves a true story, and many authentic details, but also some wonderful wordplay and satisfying rhyme. She can explain more about the process:
Faith Petric knew I loved cats, and sent me the story of Rudy-the-cat's travails after an ill-conceived dive into a garbage disposal. Patti Schroeder, Rudy's "owner," had done a wonderful job of writing about the ensuing events (you can find her original telling of the tale on Snopes.com). Here's Patti's introduction:
"This is the story of the night my ten-year-old cat, Rudy, got his head stuck in the garbage disposal. I knew at the time that the experience would be funny if the cat survived, so let me tell you right up front that he's fine. Getting him out wasn't easy, though, and the process included numerous home remedies, a plumber, two cops, an emergency overnight veterinary clinic, a case of mistaken identity, five hours of panic, and fifteen minutes of fame."
I loved the story, especially the fact that it was all true, and shared it with many friends. The narrative was hilarious and wonderfully improbable, and I trusted that there might be a way to wrestle it into the form of a song. There was a huge amount of story to work with, and I did feel somewhat daunted. I'm pretty sure Steve said something like "I don't think it can be done," which of course spurred me on.
For me, writing humor can feel less intimidating than trying to express more "important" and serious matters, and there was a lot of joy in coming up with the language for Rudy's story. Lots of internal rhyme, alliteration, and just plain fun words to sing ("the salmon skin was just the bait to lure him to insinuate his head in the Insinkerator, Rudy's in the clink"). I rhymed whenever I could, but tried to let the arc of the story remain the primary focus, and when I couldn't come up with a rhyme, so be it.
Rudy's story does take a while to tell (about 6 minutes), but I've never been afraid of long songs if they don't waste time or lose momentum. One of the tricks in this song is that the melodic structure is unusual and helps keep the audience engaged. Basically, there are two musical frameworks for the "verses," one in a major key and the other in the parallel minor. Both of the verse forms end on the five (dominant) chord, rather than resolving to the tonic, and they lead into the tonic chord which begins the "chorus." The only resting point with a tonic resolution comes at the end of each chorus.
For the most part, the two verse structures alternate, with the "chorus" appearing after each verse. The chorus (also in the parallel minor) usually starts with the line "The cat has caught his head in the disposal" – but not always. Sometimes the story had moved on, and more appropriate language was plunked into that spot. The language in the verses moves pretty quickly, as in a "patter" song, and the chorus gives a little breathing space, much needed by the singer, as well as the listener. At one point in the middle of the song, the story really didn't call for a chorus, so I just left it out and jumped right into "Act II," as I think of it.
One aspect of performing story-songs is that many people just aren't used to listening to lyrics very closely. I think it helps to have distinct musical variations, variety in pacing, and a little bit of hamming it up. Of course, when the subject is cats, you automatically have some people enraptured and others disgusted. We know who we are.
A song like this can always be improved upon, but at some point, I just let it go and started performing it. I've never been quite happy with the ending, and at some point Peter Berryman (our humor-master) suggested the line "You should always have a vet at your disposal." THAT is the perfect ending, and now I tag it on at the end (when I remember). Thanks, Peter!
After writing this song, I wondered what to do with it, finally deciding to devote a whole CD to songs about felines. It was a labor of love, keeping my ears open for songs about cats, and finding some wonderful pieces by Cheryl Wheeler, Nancy White, Buddy Mondlock, Robin Flower & Libby McLaren, Erica Wheeler, Grant Livingston, and Lou & Peter Berryman (well, theirs was really about dogs, but a cat was the protagonist). I set Les Barker's poem "Guide Cats for the Blind" to music, and wrote a final song about a cat living with a woman accused of witchcraft, "The Familiar." My aim was to shine a light on as many aspects of feline behavior and joie de vivre as we humans can comprehend. I never cease to be amazed, amused, and enlightened by them. And occasionally annoyed.
Here's a video of Cindy performing the song for a receptive audience at Russ & Julies House Concert series.
Audio from Cindy's CD, Cat Tales
The song is available on Cindy's CD of cat songs, Cat Tales, available at Compass Rose Music.
Here are the lyrics:
Rudy is a cat of silken fur and suave demeanor
But his intellect is not the very best
On the night of which I speak we had finished up our dinner
And my husband Rich was clearing our repast
He threw the salmon in the sink, then turned his gaze for just a blink
And then he hollered and I turned to him aghast
The cat has caught his head in the disposal
The salmon skin was just the bait to lure him to insinuate
His head in the Insinkerator, Rudy's in the clink

I gathered up my wits and I slathered on some Crisco
and a little dab of Johnson's baby suds
I was thinking I could grease him up and slide him from the trap
But the portly little body wouldn't budge
Then Rudy's brother Lowell began to nip and lick and howl
At his sibling who was swimming in the sludge
The cat has caught his head in the disposal
Who can you call up late at night to ask for help with such a plight?
Your plumber, sure, he'll set it right. Dave will save the day!

Dave was glad to talk Rich calmly through the fine points of
Disposal deconstruction, but we failed to free the cat
And 1-800-Insinkerator won't respond on Sunday night,
No matter what they tell you in the ads
We resorted to the digits of the desperate, 911,
And I settled in to have a little chat
My cat has caught his head in the disposal.
Don't worry ma'am, we'll take this is on, we'll send Officer Mike & Officer Tom,
If they can't handle it, no one can. Help is on the way!

The cops arrived at midnight, cat lovers every one,
And they surveyed the situation in a second
Soon Rich and Mike and Tom were huddled underneath the sink
With a tiny saw to cut the flange on Rudy's neck and
I sat with Rudy on the brink, breathing deep so's not to think
Of the grinding of the sawblade in the depths
The guys exposed the guts of the disposal
And Rudy's face appeared to us, the visage that's so dear to us,
But he wasn't out of danger 'cause his neck was in the ring.

They couldn't cut the flange without endangering the cat,
So the next step was to lift the kitchen sink.
Officer Mike has got a little plumbing business on the side,
And he set to work as quick as you could think
The guys were having quite a time, capping off the plumbing lines,
By one A.M. the pipes were all un-linked
The cat was still encased in the disposal.
They turned the sink up on its side so head and body could align,
But still to budge he was not inclined. Rudy's in a bind.

The cops had done all they could do, but Rudy's paws were turning blue,
He had to see a doctor right away
Mike knew about a clinic with an all-night vet to visit
And he said that he could lead us to the place
So Rich got in the driver's seat, I crawled in back with the kitchen sink
And Rudy and the disposal on my lap

As we took off, I thought I'd comfort Rudy with my touch,
And I reached around so he could smell my hand
And that loving little tabby chomped down on my finger badly
And he clamped it in his jaws and held it fast.
I yowled aloud in pain & Rich pulled over in a panic,
"What's the matter? Are you okay?" I answered "No,
The cat has got his jaws around my pinkie"
I knew I would survive the bruise, we pulled again behind the cruiser
Racing down the avenues searching for the vet

The cop pulled over in a parking lot behind a church
We pulled beside him, and Rich said "Mike, where's the vet?"
And the officer responded "Who is Mike, and who are you
And what's the reason you've been tailing me tonight?"
Rich pointed to the back seat where I grimly smiled & gnashed my teeth
And once again my saga did relate
My cat has caught his head in the disposal...
Our third policeman wasn't busy, "I'll lead you the vet," says he,
And there was Mike, all in a tizzy, "Where the heck were you?"

We carried Rudy and the sink and the disposal in,
And we were glad to be received without a smirk
Rudy's temperature and oxygen were low, he was in shock,
And the doctor and the staff went right to work
I couldn't help but cringe when they stuck in the syringe
And the pudgy little body slumped inert
The cat was slithered out of the disposal
They lubed his neck with KY jelly, pulled his greasy body til he
Popped out of his collar and was free from sink at last!

The crew sprang into action, IV fluids were attached
And little socks and blankets warmed him in his bed,
Hot water bottles were applied, a blow-dryer to warm
The punky spike of fur upon his tawny head
Rich and I got home at 4 AM, sipped martinis, went to bed,
Awakened by a newsman with a a query: "Do you have
A cat who caught his head in a disposal?
The blotter the policemen keep says something about a kitchen sink
And a cat who clearly didn't think. How's Rudy, by the way?"

The story spread through throughout the town & traveled all the world around
But fame has not affected Rudy's thinking
Our new disposal has a cover, and I know I find it odd
That Rudy still is seen to prowl around the brink
You would imagine he'd recall with every shiver of his soul
That magic evening he adorned the kitchen sink
The cat who caught his head in the disposal
The night that Rudy was detained a thousand bucks went down the drain
And the stalwart vet can now exclaim he's seen the kitchen sink


© 2002, Compass Rose Music, BMI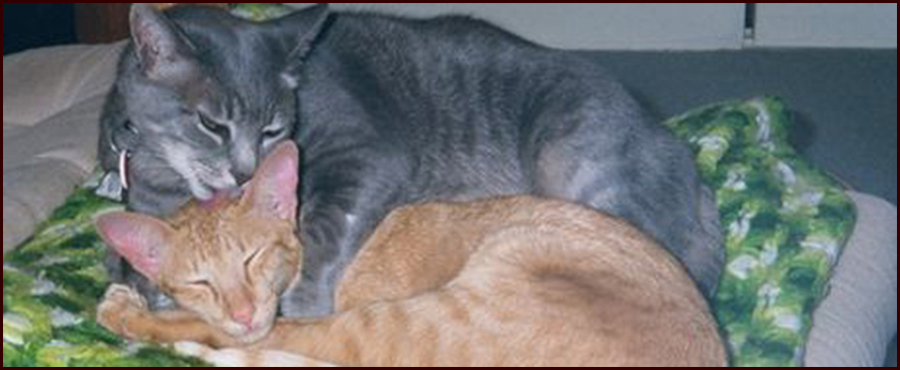 Rudy and Lowell