Nola
by Felix Arndt
Felix Arndt was born on May 20th in 1889 and died tragically during the flu epidemic on October 16th 1918. He was an American pianist and composer who lived and worked in New York. His mother was the Countess Fevrier, related to Napoleon III.
He wrote "Nola" as an engagement piece in 1915, ten months before his wedding to Nola Locke. She was also a composer, singer, and teacher who traveled as a soloist with the St. Louis Symphony. The tune was published in 1916 by Sam Fox. It is thought to be the first example of the novelty piano or novelty ragtime genre.
Arndt composed songs for vaudeville and recorded over 3000 piano rolls for Duo-Art and QRS Records. Many of these paper recordings still survive today and they make it clear that he was a fine pianist.
Arndt was also an influence on George Gershwin, who would visit him at his studio in the Aeolian Building on 42nd St., between 6th and 7th Avenues. This contact may have been the inspiration for Gershwin's "Rialto Ripples." Through Arndt, Gershwin began to make piano rolls in 1916.
Piano rolls are continuous rolls of paper with holes cut into them. The perforations represent notes and other data like pedal action and volume. The roll moves over a reading system known as a 'tracker bar' which uses a vacuum to sense when there is a hole in the paper. Each musical note is triggered when a perforation crosses the bar and is read.
Over one hundred composers wrote music especially for the player piano during the course of the 20th century. Many mainstream composers experimented with its possibilities, including Igor Stravinsky, Alfredo Casella, Paul Hindemith and others. Conlon Nancarrow used specially prepared player pianos with steel hammers and heavier strings for his compositions.
Reproducing pianos can also re-create the dynamics of a pianist's performance by means of specially encoded control perforations placed at the edges of a music roll.
Here's a little of the sheet music for "Nola."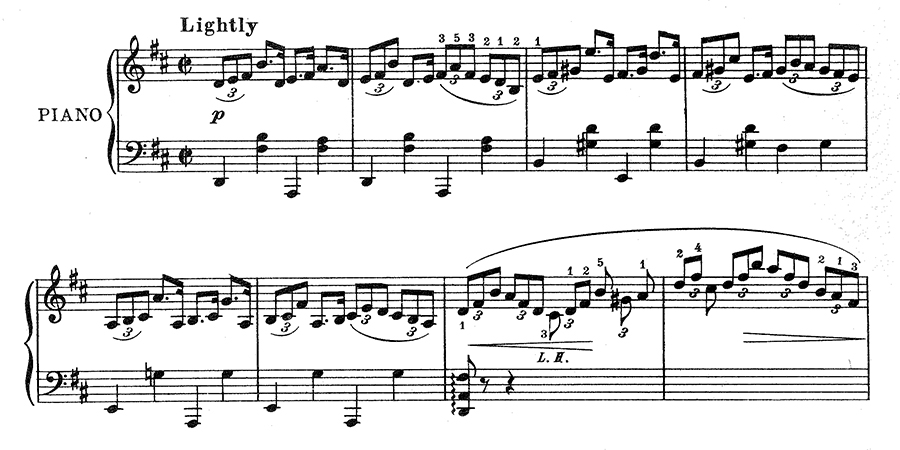 Syncopation and rhythmic schemes are important aspects of this composition. I think it's a good one for us to take up in order to explore those issues. In the first bar of the music you will see the use of eighth-note triplets - three notes that take up the time of two eighth-notes or one quarter-note. In the place of each quarter-note of the top staff of that bar, a triplet is employed.
Only the first triplet has a sound on each of the three notes. The others use a dotted note after the first note to signify that the note is held for one more of that note's value. If you sang 'didle a dee' you would be using all three notes on the first triplet, plus the next quarter note. But if you leave out the 'le' but keep the other syllables in place, you have 'did – a dee.' The triplet is still the framework, but the silence is evoking the sense of syncopation.
A similar exploration of triplets, dotted notes and syncopation is found in the 1943 hit song "Mairzy Doats," written and composed by Milton Drake, Al Hoffman, and Jerry Livingston. The song's refrain seems meaningless, but all is explained by the bridge. Notice the anticipation on 'lamz' which is often sung as the third eight-note of the triplet which begins with 'lid.' It's as if it were written 'lid-dle-l, a-am-zy, di-ve-e, e-e-ey.' Much more clumsy to write than to sing.

"Mairzy doats and dozy doats and liddle lamzy divey
A kiddley divey too, wouldn't you?"
In the bridge we get the clue to translating the jibberish:
"If the words sound queer and funny to your ear, a little bit jumbled and jivey,
Sing "Mares eat oats and does eat oats and little lambs eat ivy."
I want to focus on the one phrase 'a kid'll eat ivy, too.' This phrase has the same scheme of triplets as the first bar of "Nola." 'Kid' is the first of the eighth-notes in the first triplet, followed by 'dl' and 'eat' with the same quick succession. Then in the second triplet, the 'i' of 'ivy' is held for the dotted eighth-note holding the 'vy' off until the last of the three eighth-notes of that triplet.
This use of triplets is not just for jigs and novelty tunes. Used in many other kinds of songs, the triplet has the effect of emphasizing the word that follows it. Slowed down a bit you can see how much it contributes to a song like "Twilight Time."

"Heavenly shades of night are falling, it's twilight time.
Out of the mist your voice is calling, it's twilight time."

Again, the triplet grabs the ear, sets the tempo and leads us to the words of interest, 'shades' and 'mist.'
In an interesting side note, Milton Drake, one of the writers of "Mairsy Doats," said the song had been based on an English nursery rhyme. His four-year-old daughter came home singing, "Cowzy tweet and sowzy tweet and liddle sharksy doisters." (Cows eat wheat and sows eat wheat and little sharks eat oysters.) It may also relate to a manuscript from around 1450 which says "Is gote eate yvy? Mare eate ootys."
Syncopation in music refers to any shifting of the normal accent, usually by stressing a normally unaccented beat. Or, as Wikipedia puts it "A disturbance or interruption of the regular flow of rhythm." They use the example of the Rolling Stones song, "Satisfaction." 'I can't get no, satisfaction' which is rife with shifted emphasis, and it works. It's worthwhile to read their article on syncopation for a much more technical explanation with examples from classical and ancient music.
In "Nola" there are many examples of this unexpected jump or switch of strong emphasis on a normally weak beat. The composer has used a scheme of shifts of what is expected and what is unexpected to keep the piece interesting and entertaining. Even if you can't read music, you can hear those points of emphasis.
This is the version of "Nola" that Cindy and I recorded for our CD Being There. We used it in this video which has images from our sailing voyage on Penobscot Bay in Maine in August of 2017. We sailed from Buck's Harbor to Vinalhaven, Stonington and Swan's Island. Nick Apollonio was our skipper aboard the Alamar, a 45' traditional sailing schooner. I like to think that the tune is a good accompaniment to the sunlight on the water and the wind in the sails.
Audio from Steve & Cindy's CD, Being There. Video by Steve
This is Felix Arndt playing "Nola" on a 1916 Victor recording. It seems very fast to my ears. But it's clear he has the technique to articulate the tight passages of sixteenth notes. Still at times he seems to smear the phrases and some of what I like about the rhythmic scheme is lost. It must have been quite impressive to the composition's namesake, the object of his affection, a fine musician herself.
Here's a recording of Arndt's performance on a piano roll. It doesn't seem to suffer from the speediness of the Victor recording, although it's still pretty fast. If I had heard this one first I might have thought that the piano roll had been played back faster than was true of the original.
Here's another of Arndt's performances captured on a piano roll recorded a year later as far as I can tell. This time a slower tempo, and I think with more personality. You can certainly hear the timing of the complex passages more clearly. There are some other differences that are interesting. I guess if the composer could reinterpret so much of the tune then we can too.
"Nola" was also recorded by Les Paul in a multi-tracked arrangement featuring three electric guitar parts and it became a top ten hit in 1950. He used two tape recorders recording the basic rhythm track on one and then playing along with that as he recorded both parts to the second tape recorder. He would repeat the process for the third part. He couldn't do very many of these layers without losing clarity on the first track. The Beatles did something similar a few years later with two four-track machines. "Sg. Pepper's Lonely Hearts Club Band" was recorded this way.
Here's Liberace's take on the tune. After years of playing it for audiences, it seems he's taken into his own territory, not exactly virtuosic, at least some of the virtue seems to have been lost. Not to pick on the man, but he blurs the time so much just by playing the song so fast. Many people have the mistaken impression that ragtime and jazz tunes are good because they are speedy. When the banjo appears at the two-thirds point of the production, all is lost. (We're a three banjo family so I can make banjo jokes.) But really, there is a rhythmic subtlety to "Nola" that is easy to lose.
Cory Hall has one of the best performances. You can hear that he has command of the keyboard to be sure. Still, to be critical, there are two little time lapses at 38 seconds and 1:11. I'm not sure if this last one is a mistake, or just a way of expressing a very complicated passage that I think might throw many players trying to learn the tune. There are a couple of little hesitations that might make the producer ask for another take, 2:55 for instance, but this performance has the spirit, the dance. If you pat your knees with the rhythm as you listen, you can get a sense of just how 'tight' the playing needs to be to convey the gifts of the tune.
Frederick Hodges starts with a nice introduction which one of the YouTube comments suggests comes from "Doll Dance" by Nacio Herb Brown. Again, this interpretation is a little speedy which tends to obscure the time, but he brings to it a rhythmic scheme which works. I can't help thinking that easing the tempo down a couple of beats per minute might bring out a little more musicality. It does seem that performers can be driven to pander to anxious or impatient audiences. His last turnaround sounds like he's been playing a lot of Gershwin, and that's fitting because of Gershwin's affection for Felix Arndt.
Todd Perley plays a very good version of the song. His tempo seems right to me. He has a good handle on the rhythmic subtleties pretty much through the piece except where he seems to blur the time in the second bridge with the descending cascades of notes. It seems to me that there is still the suggestion of a poly-rhythmic three-over-four syncopation that is easy to lose track of. And, of course it's easy to make too much of that scheme as well. It's got to be subtle, but still have integrity. He apologizes for mistakes which I didn't think detracted from the performance. The spirit is there, but it shows just what a difficult piece it is.