Molly & Tenbrooks
Words & Music by Linda Albertano & Steve Gillette
I've written about my early collaboration with Linda Albertano and Tom Campbell. Tom and Linda wrote "Two Ten Train," the subject of a previous article and video. Linda graduated from UCLA film school and has been a successful performing artist and poet, as well as being an accomplished songwriter.
She's taken part in the LA Poetry Festival, South by Southwest, Lollapalooza, WORD LA and Allen Ginsberg's memorial celebration, as well as London's October Gallery and Edinburgh's Edge. LA Weekly named her "The Best Female Performer Poet." She was among five poets who represented Los Angeles in Amsterdam's One World Poetry Festival, a ten-day multinational festival sponsored by the Dutch Government.
Linda toured the US, Canada and Great Britain with Alice Cooper for "The Nightmare Returns." In recent years she's travelled twice to Conakry in Guinea, West Africa to study kora, bolon and n'goni (stringed calabash instruments) with the masters of ancient musical traditions, Prince Diabate, Djelimuso, Koyate and Amadou Bolon.
Linda found this story of two horses in a famous race held in Lexington, Kentucky on the fourth of July in 1878. Ten Broeck was the eastern champion and held six records for distances ranging from one to four miles. In his last two racing seasons, Ten Broeck had recorded 16 wins and 2 seconds from his 18 starts.
Mollie McCarty, the California mare, was undefeated after thirteen races. She was sold to Lucky Baldwin who sent her to Kentucky, the first California horse ever sent east; a long, difficult journey by train. John Harper, the owner of Ten Broeck, bet Baldwin $5,000 that his horse would win the best two heats out of three in a 4 mile race. Due to public demand that the best in the West should race the best in the East at least 30,000 people showed up on that day.
One of the things that drew us to the story was the device of the horses calling out to each other in the heat of the contest. There's a definite sense of respect and regard in these lines, anthropomorphic I suppose, but very moving.
It seems clear that Molly was the faster horse. At the two mile mark she was significantly ahead of Tenbrooks. But by mile three, Molly began to suffer the effects of the Kentucky summer heat. She did finish the race, but was so unsteady that many had the impression that she would collapse. Over time, the story was expanded to include a burial 'in a coffin ready-made.' This was a dramatic touch, but quite untrue as Molly went on to win later races and give birth to several foals in her remaining years. But this was not her day.
As the president of Churchill Downs, Colonel Matt J. Winn, described, Mollie was game to the end: "Howson drew the whip, and for the first time in her career, Mollie felt the sting of the lash. She leaped forward, apparently amazed by this strange new pain. She charged ahead, trying to get away from it. For an eighth of a mile - perhaps a little farther - she gave all she had left in her sleek and beautiful body. And then she could give no more. Every last ounce of energy was gone from her, and she slowed down and she staggered from side to side, and many in the stands felt she might collapse, and fall dead on the track.
"Cries of "The mare's broke down!" were heard from the crowd, but no, after racing two-and-a-half miles at top speed on a blisteringly hot day over a poorly prepared track, with one of the era's great racehorses at her throatlatch, Mollie had simply reached the bottom of her physical strength."
As it happened, this was Ten Broeck's last race. It was also the last race of its kind, and the end of an era. American horse racing was now turning to the shorter English-style "dash" races rather than long grueling match races.
In 1929, a band called the Carver Boys recorded a traditional song called "Tim Brook" which described this race. This was the 'run Molly run, run Molly run,' version of the song that became part of the repertoire of Bill Monroe and His Bluegrass Boys years later. Their version came out on record in 1949 a year after a version by the Stanley Brothers. The song has become a standard in the repertoire of many of today's bluegrass professionals.
I got to play our version of the song for Bill Monroe at the Philadelphia Folk Festival in 1968. I had the impression that he didn't think the world needed another version of the song. But he was polite.
When I recorded the song for my "Alone . . . Direct" album I took an approach to the guitar that used a syncopated finger-picking sequence to turn the three/four time into a more fast-paced, hopefully more exciting accompaniment for the song.
In this clip you can hear the intro to that solo recording and you can hear me establish the pulse, at a tempo of approximately one-hundred-forty-four beats per minute. Then you can hear that pulse start to subdivide into smaller divisions of the bar as I bring the fingers in to play eighth-notes and eventually sixteenth-notes.
The main thing is to keep the emphasis on the stiff expression of the time in such a way that it doesn't relax into the waltz we associate with Strauss, or the danceable waltzes like "Midnight On the Water." The song "Stewball" is an example of a similar song, which actually shares some of the roots of the story with our song, but is performed with the more standard approach to three/four time.
Here is the clip of the intro to "Molly and Tenbrooks":
In 2003 Cindy and I had the opportunity to record an album with our friends Anne Hills and Michael Smith. We were very excited to have the chance to work as a quartet. Michael and Anne have done a lot of recording together and Cindy and Anne made two albums as well as three trio albums with Priscilla Herdman.
Anne was able to negotiate a budget from Appleseed Records and it was such a luxury to have eight days in the studio with which to rehearse and record, and start over if we felt we could do any song better. We did a concert tour and played the Philadelphia Folk Festival and the Old Songs Festival that year. How we would love to do more with those astonishingly talented folks.
For our group we came up with the name "Fourtold" and decided that our focus would be on story songs. We recorded "Molly and Tenbrooks" with the same fast tempo and the same sense of urgency as in my earlier recording, but since we could divide up the accompaniment among the guitar, the twelve-string and the banjo, you don't hear that complex picking pattern that was such an important part of the solo approach. It's the Fourtold version of the song that is used on this video.
"Molly & Tenbrooks" Performed by Fourtold; Video by Steve
When Ian & Sylvia recorded our song, they gave it a more traditional Bluegrass treatment, and changed the time signature to four/four. You'll hear some wonderful banjo from our old friend Eric Weissberg, who played the version of "Dueling Banjos" which was used in the 1972 film "Deliverance."
Ian & Sylvia's recorded version of "Molly & Tenbrooks"
The Fourtold recording of the song is on the CD Fourtold, available from Steve & Cindy's online store here.
Here are the lyrics the way we sing it.

	
Tenbrooks was a bay horse, had a long, shaggy mane.
Rode all around Memphis, beat the big Memphis train.
Run, Tenbrooks, run, if you don't run.
Molly gonna beat you to the bright shinin' sun.

The women were weepin', their babes cryin' too.
The nine proud horses came thunderin' through.
With Molly the leader, her head tossin' high.
With Molly the leader, with Tenbrooks behind,
She came flyin' by.

We shouted to Kuyper, you're not ridin' right.
Molly is a'beatin' Tenbrooks out of sight.
Kuyper, oh Kuyper, Kuyper my son,
Give him the bridle, let Tenbrooks run.

Tenbrooks looked at Molly, your face is so red.
Been runnin in the hot sun with a feverish head.
You're fallin' behind me, I'm out here all alone
Molly says to Tenbrooks, I'm leavin' this world
I'm goin' on home.

Oh, run fetch old Tenbrooks and tie him in the shade.
They're buryin' Molly in a coffin ready made.
Out in California Molly done as she pleased,
Back in Kentucky, got beat with all ease,
Got beat with all ease.


© 1967 Cherry Lane Music, ASCAP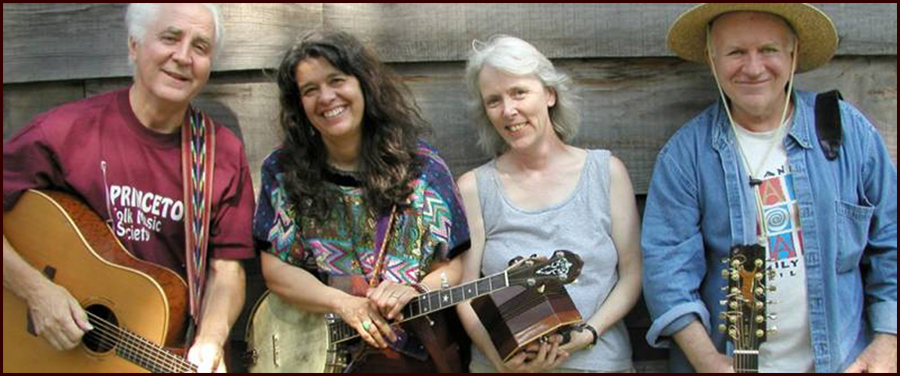 Steve Gillette, Anne Hills, Cindy Mangsen & Michael Smith "Fourtold" at the Old Songs Festival 2003