If You're Ever in Texas

Words & music by Steve Gillette & Charles John Quarto
When you make the journey to the place in your imagination to see what it's really like, you may actually do some of your living there. At some point you won't be a visitor any more. For the liner notes of my concept album Texas & Tennessee, I wrote, "They say that when you've lived in two places, you know more about both of them. There are songs that have dual citizenship too."
It was with the prompting of my friend and co-writer, Charles John Quarto, that I wrote to Rod Kennedy at the Kerrville Folk Festival asking to be included in the songwriting school and to audition for the main stage. Rod kindly extended the invitation to me for both, and as many others have said, Kerrville was a life-changing experience for me.
I had been distantly aware of some of the great Texas songwriters, but this was a chance to sit up close, and even sit in the circle with Jerry Jeff Walker, Guy Clark, Townes Van Zandt, Nanci Griffith, Shake Russell, Mike Williams, Linda Lowe, Slim Richey Marsha Ball, Butch Hancock, Steve Fromholz, Anne Hills, Karen Mal, Eliza Gilkyson and so many of the talented movers and shakers of the Austin, Houston and Lubbock music scenes.
Our friend Gary P. Nunn had been a founding member of the legendary Lost Gonzo Band with Bob Livingston, John Inmon and Jerry Jeff. He also played for Michael Martin Murphey and Willie Nelson. Murphey and Charles John had written "Geronimo's Cadillac" a few years earlier.
While he was with the Gonzos, Gary P. wrote the famous theme song for Austin City Limits, "The London Homesick Blues" remembered for its chorus, "I wanna go home with the armadillo." Most people aren't aware of the reference to Austin's Armadillo World Headquarters, the scene of many amazing concerts over the years, but the reference to the little armor plated mammal is funny enough.
Gary P. told Charles that he was making regular journeys over to Nashville to visit a new girlfriend. He was very much in love but anxious about the distance. Neither of them was quite able to justify changing their residence at that point.
Because of his commitments in Austin, Gary couldn't move to Nashville, and the object of his affection couldn't leave Nashville as she was having some success as a singer and songwriter, and was in line for a major record label deal, which she did eventually get. (I withhold her name out of respect for her privacy, although I admit Gary may have grounds for complaint as well.)
It occurred to Charles that a song about the geography of romance, the rocky interstate of love, so to speak, might be worth working on. We were moved by their story, what little we knew of it, but we took the song in a more generic direction, focusing on the sense of distance and uncertainty, with just a hint of the musical aspect. Charles really took the lead on this one, the title is his, and much of the language is characteristic of his poetic style. I focused on the melody and the changes.
During these years I was living on the road. There was work for me in Southern California, and I could offer some weekend money to my brother Jeff and that was very satisfying. Playing music was his dream while roofing was paying the bills. Soon, Wayne Hartel and Rey Castillo, bass and drums respectively, rounded out a pretty good band with enough versatility to cover the contemporary singer-songwriter material; most of the Waylon and Willie catalog, and even some Allman Brothers and other influences of Jeff's generation.
When we played some of the bigger country dance clubs we could afford to bring in other players like Tony Terborg on piano and Greg Leisz or Pete Grant or Brad Felton on pedal steel.
When Rod Kennedy asked Caroline Hester and me to help bring musicians from the Kerrville Folk Festival out to the West Coast in early 1987, we were able to enlist a group of Los Angeles friends who were very excited about seeing some of the great Texas musicians come our way.
Our troupe of Kerrville all-stars consisted of Carolyn, Butch Hancock & Marce LaCouture , Christine Albert with Ernie Gammage, Allen Damron, Jimmy Dale Gilmore, and Shake Russell. Our backup band included Paul Glasse on mandolin, Erik Kokkanen on fiddle and David Halley on guitar. This tour prompted Rey to invest in a tiny house trailer so that he and Wayne and Jeff could join the troupe. This little trailer also enabled us to travel across the country eventually, but not without some false starts.
On March 1st, Jeff and I were on the air on KPFK's Folkscene with Howard and Roz Larman to publicize the arrival of the Kerrville gang. We had scheduled the Palomino club for Friday, March 5th and then the Luther Burbank Center in Santa Rosa on Saturday, the 6th. The concert at the Palomino was a great success, sold out, and there was a lot of good press.
After the concert we packed up and headed north toward Santa Rosa. Butch, Marce, Rey and Wayne and I were in my van with the trailer behind. In the Kettleman Hills on the long upgrade on route 5, Wayne noticed smoke coming from the rear of the van. We pulled over and as we opened the side door, we saw flames. Marce jumped out screaming, "We're on fire."
Wayne was kneeling down beside the van, and before Rey could get the fire extinguisher from the trailer, he had put the fire out with handfuls of dirt. It turned out that the transmission that I had paid $1300 to rebuild just a few months before had failed again, this time pouring hot transmission fluid over the exhaust system and erupting into flame. We were towed to a repair shop in Avila, and waited until the morning to see what could be done.
In the morning, the transmission was taken out and examined, and it was decided that rather than rebuild the whole thing, which we didn't have the money to do, we could try just replacing the front seal and see if that worked. In the meantime, Butch was snapping pictures of the work at each stage, and pictures of my face as I heard the bad news.
We made some calls and located a rental car. We decided that Wayne and Rey would stay with the van and trailer and I would go on with Butch and Marce to Santa Rosa for our concert. We got a ride to the next town where we could pick up the car, and then drove very fast toward the North, just barely getting to the Luther Burbank Center in time for the concert.
My brother Jeff had driven on his own and met us there. He had been there for a while and I suppose the anxiety of not knowing where we were contributed to his visits to the open bar. Shake gave me a look when we walked in, which spoke volumes. But our portion of the concert went very well.
The next morning I drove the rental car back down Highway 5 and met Wayne and Rey at a rest stop near Avila. They had spent the night there, but every few hours they would pull out and go up the road, get off the highway on the off ramp, and double back and stop at the rest area on the other side of the highway so that people would not notice that they had been there all night.
We took the rental car back, and headed out on the highway to see how the transmission would do. We hadn't gone very far when we stopped and took a good look, and to our profound dismay, saw that the seal was leaking again, and there was nothing to be done but to go into Kern and purchase a rebuilt transmission, completely depleting the meager fund I had left in the bank for the bills that I expected to come in during the time we were on the road for the next few weeks.
The three of us drove on to Texas with the trailer in tow. On March 11, we played for the Veteran's Hospital in Kerrville in the afternoon and then the Steamboat Acoustic Series in Austin that night. On the 13th, we did a concert for the Texas State Rehabilitation Center back in Kerrville and then Rocky Joe's the next night. We played at Gruene Hall on the 15th, and then on to Nashville for a few days with no booking.
We headed east to play the Tow Path Concert Series in New Hope, Pennsylvania on March 25th, then the Minstrel Show Concert Series in Morristown, New Jersey on the 27th. On April 2nd we played The Speakeasy in New York and then the Pursuit of Happiness in Liberty, New York on the 4th, Ireland's Four Provinces in Washington, DC on the 5th, and the Birchmere in Alexandria, Virginia on the 8th.
Back up to Peterborough, New Hampshire to play the Folkway on the 10th, and the Turning Point in Piermont, New York on the 12th. On April 17th and 18th we played for Lena Spencer at Caffe Lena, in Saratoga Springs, New York. Wayne and Rey and I installed a new lock on the front doors after the fire department told Lena that the old one didn't conform to the fire code.
Then we were off to Wilmington, Delaware to play the Folk Survivors Concert Series on the 22nd, Godfrey Daniels in Bethlehem, Pennsylvania on the 23rd, and back to New York for a concert at New York University. Then we headed back to Nashville to camp out in Steve Young's backyard until our night at Douglas Corner Cafe on May 9th.
Douglas Corner was one of the great Nashville listening rooms, sadly sacrificed to the pandemic in the summer of 2020. John Prine was waiting for us at the bar when we came in for our sound check, along with several other old friends. Some of them even showed up later for the concert, which is almost too much to expect in a town where amazing music was happening in a dozen places every night.
We didn't order any food or drink, but retreated to the trailer for leftovers. After a couple weeks without a paycheck, we were so broke that I despaired of even being able to get out of town toward Houston where our engagement at Anderson Fair would not be until the 17th.
Chris Dodson was in the audience and came up during a break to say that he was interested in the new song we had just performed, "If You're Ever In Texas." He seemed to be in earnest, and friends said that he was one of the good guys, a respected publisher and producer, and someone good to know in the town.
In the morning as we were preparing to get on the road, I decided to drop in at his office and ask if he really thought our song had potential and if he might be willing to work with it. He was pretty encouraging about its prospects, and reaffirmed his praise of the night before, so I was emboldened to ask if he might consider offering us an advance on the publishing rights to my half of the song.
It's a measure of just how broke we were. He wrote me a check for $100, and we got back on the road. So far, his investment has not been a great bargain, but I have hopes that this song could be a hit for somebody. And this week, it's on your playlist, so that's something.
Here's my video of "If You're Ever In Texas". The audio is from my album called Texas & Tennessee, available from our online store here.
On this recording of the song, Charles Cochran played piano and organ, Larry Atamaniuk played drums, Roger Spencer played bass, Jeff Gillette played lead guitar, Mike Williams sang harmony and Pete Sutherland played fiddle.
The tune at the end is "Midnight On the Water," Benny Thomasson's version of the beautiful old melody.
"If You're Ever in Texas" from Texas & Tennessee.
Video by Steve
Here are the lyrics and chords to "If You're Ever in Texas":
"If You're Ever In Texas" — Words & music by Steve Gillette & Charles John Quarto
ID just thought I'd Gcall and Dtell you Gwhat Eminonly a dreamer would Asay.
I Gjust thought I'd mention I've been Dwatching the trains,
I Eminjust thought I'd tell you that I Amiss you today.

Tell me Dhow are Gthings up in DNashvilleG
And Eminwhen might you be gettin' aAway.
I've Ggot two guitars here, got Dlove songs to play,
I Eminjust thought I'd tell you that I Aneed you each day.

And every Gnow and then I Dwonder,
F#Just how sweet love would Bminbe G
If you're De Gver in DTexas,G
If I'm Dever in ATennesDsee.A

You never can tell what's comin'
No one sees it all they say.
But one thing's for certain, love finds its own way,
I just thought I'd tell you that I love you today.

And every now and then I wonder,
Just how sweet love could be.
If you're ever in Texas,
If I'm ever in Tennessee.

If you're ever in Texas,
If I'm ever in Tennessee.




© 1987, Makin' It Up Music / Foreshadow Songs, Inc., BMI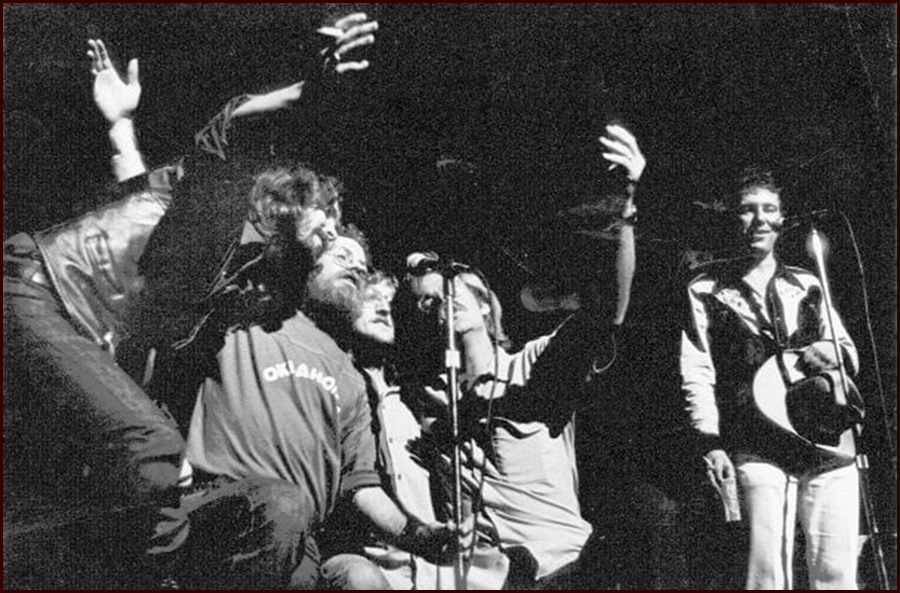 The Lost Gonzo Band – John Inmon Gary P. Nunn Donny Dolan Bob Livingston and Jerry Jeff Walker. Photo by Ron McKeown