Buddy & Carol's Waltz
Composed by Brian Cutean, Steve Gillette, Donna Henshell and Kelly Mulhollan
Each year since 1984 I've attended the Kerrville Folk Festival. Songwriting is the focus of the festival and its classes, concerts and the New Folk competition. I believe it is the premier songwriter gathering. But it's also a community, some have said 'a tribe.'
There is definitely a sense of family and many events take on a family energy among people who are not actually related. There are many who are second and even third generations of 'Kerrverts' and some speculate that they may have been conceived there.
Four of us who enjoy playing music together, all of us songwriters, saw the occasion of the wedding of two good friends as an event that called for the creation of a waltz to commemorate the day. Brian Cutean, Donna Henshell, Kelly Mulhollan and I wrote this one.
It hadn't occurred to us that the happy couple might dance to the waltz under the noon-day Texas sun in their full formal dress. If we'd foreseen that we might have made it a shorter tune. Still we honored the moment and the waltz has had a life of its own.
When I proposed the idea to my old friend and occasional collaborator, Brian Cutean, he immediately had ideas to bring to it. Brian is a gifted songwriter. The gypsy minor bridge is typical of Brian's influences of traditional jazz, even classics like Erik Satie. Very eclectic and sometimes playful, he can evoke the musical equivalents of Lord Buckley and the Marx Brothers.
As the tune took on a more definite shape we asked Kelly and Donna to play it through with us thinking we would get it ready to play for the wedding party. More good ideas were offered and we realized that the collaboration had brought the waltz to a better place. For the performance we enlisted the help of bass player John Johnston.
Brian wrote: "What I remember about the waltz is that you came by my tent and suggested we write a waltz for the bride and groom's first dance. I think you also had the melody you hummed which is essentially the melody we used. If I recall correctly, we pretty much had the form when we got Kelly and Donna into the process.
I think you and I fleshed out the A and B parts and when we went through the second B part is when I thought of extending the dream into an ancient theme departure with the C minor part. I especially liked the way it opened another room into the song for a brief peek before returning to the main theme. Kelly told me it was his favorite part of the song too.
Kelly and Donna's contribution was melodic and rhythmic as well. I think they altered the melody slightly and helped pull it into a better focus (it is folk-us music after all). I've been working on a single guitar arrangement of the song for awhile now and even played it at one of my wordless guitar gigs to welcoming ears. It is a spritely pastoral dance piece that would be at home in many time periods but the C minor part is more last century (and this one of course)."
Brian sent me a copy of the mini disc recording he made of one of our last rehearsals before the big day. You can hear it here:

Campground Rehearsal
He wrote: "I've always thought of it as a fine collaboration as I can hear your voice, my voice and the signature sound of Kelly's mandolin and Donna's fiddle. John's bass on the track is a definite bonus."
In New England, where Cindy and I live, there is a long tradition of tunes written for special occasions and many are wedding waltzes. New England's song repertoire since colonial days was characterized by the cross-fertilization of song forms played by the many French, English, Irish, and Scottish immigrants on simple folk instruments.
Many times, the fiddler was the only musician. There is a rural tradition of moving the kitchen table up against the wall and placing a chair on top of it for the fiddler who would keep time with his feet and play for the dancers. Most of these tunes would be jigs and reels, but there was always demand for a sweet waltz.
Our friend Bill Matthiesen has published four volumes of waltzes. Mainly drawn from the contradance community of New England, some are traditional tunes and some written by contemporary musicians. Many of those are old friends of ours from the region, Jay Ungar, Pete Sutherland, George Wilson, Bob McQuillan and Dave Kaynor. One nice feature of these books is that they contain messages from some of the composers about how the tunes came to be written. Bill has also written about his approach to piano accompaniment.
In the preface to the first Waltz Book, Bill writes: "The waltz is such an enjoyable dance today, and the music holds such positive associations, it's hard to imagine that in the early 1800's it was considered scandalous and antisocial. Originally an energetic and sexually suggestive peasant dance cleaned up for the ballroom, both music and steps have gone through many evolutions. The waltz's ability to change may be why, of all dances of the past two hundred years, it has not only survived but thrived in a variety of traditions."
David Kaynor wrote the beautiful "Autumn Waltz" for the wedding of two friends and played it at their reception. Jay Ungar, who wrote "Ashokan Farewell," probably the most recognizable fiddle tune of our generation, wrote "Judy and Jim's Wedding" for, you guessed it, Judy and Jim. George Wilson wrote his "Wedding Waltz" as a wedding gift for his wife Pat.
This is the New England community and tradition that Cindy and I are used to. I've tried to be a fiddler for many years and both of us have had lessons with George Wilson, but have never brought the playing to the level of public performance. Still the tunes have enriched the musical resources we bring to our writing.
Here's the video I made of "Buddy & Carol's Waltz using the track that Pete Sutherland arranged for Cindy and me for our Compass Rose CD, A Sense of Place. Pete plays piano and fiddle, Cindy plays concertina, Mark Schatz plays bass and I play guitar.
Audio from Steve & Cindy's album, A Sense of Place
Video by Steve
The song is available on Steve and Cindy's album, A Sense of Place, available at Compass Rose Music as an MP3 download (album or song only).
Here's the sheet music for "Buddy & Carol's Waltz." This is also available in the Steve Gillette Song Book, and as a downloadable pdf.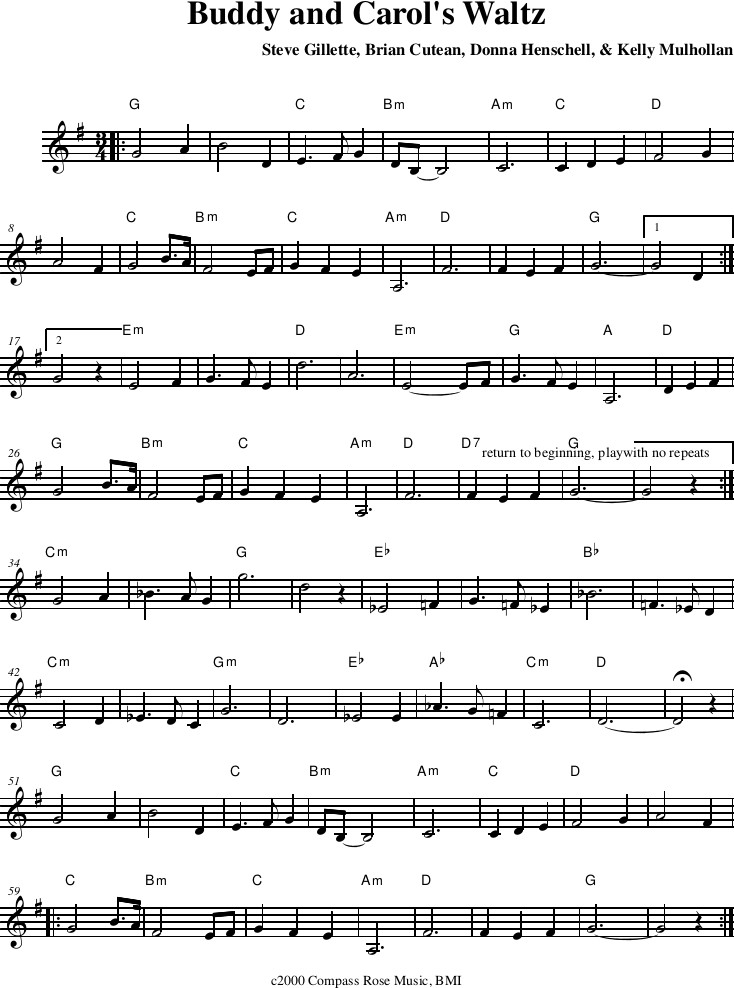 And for those of you who are so inclined, here is more on the history of the Waltz.
Waltz was once named the "Forbidden dance."
The waltz is the oldest of the current ballroom dances. The first waltzes were danced in the environs of today's Germany and Austria, back in the 13th century. The name comes from the German word "waltzen," which means "to turn."
The form we know today was born in Austria's mountain regions. During the 17th century it was played and danced in ballrooms of the Hapsburg court. By the end of eighteenth century this once Austrian peasant dance had been accepted by the upper classes.
A scene from Goethe's 1774 novel, The Sorrows of Young Werther, describes a ball that begins with stuffy minuets until a new tune is struck: "When the waltz commenced, and the dancers whirled around each other in the giddy maze . . . Never did I dance more lightly. I felt myself more than mortal, holding this loveliest of creatures in my arms, flying, with her as rapidly as the wind, till I lost sight of every other object."
As the dance started gaining popularity, it was criticized on moral grounds due to its close-hold stance and fast turning movements. Religious leaders regarded it as vulgar and sinful. For the next few decades, parents and leaders tried to stop their children from dancing the waltz. The Times of London even extended a warning to parents after the Prince Regent threw a ball that included a waltz in 1816:
"We remarked with pain that the indecent foreign dance called the Waltz was introduced (we believe for the first time) at the English court on Friday last. It is quite sufficient to cast one's eyes on the voluptuous intertwining of the limbs and close compressure on the bodies in their dance, to see that it is indeed far removed from the modest reserve which has hitherto been considered distinctive of English females. We feel it a duty to warn every parent against exposing his daughter to so fatal a contagion." — The Times of London, 16th July 1816
The Oxford English Dictionary shows that it was considered "riotous and indecent" as late as 1825. In 1833 a British manual of good manners recommended only married women should dance it, as it was too immoral for the unwed.
Before the Waltz, people danced around each other with little or no contact at all. Many dancing masters considered the Waltz as a threat to the profession. Its basic steps could be learned in no time, as opposed to other court dances like minuet, which took a fair amount of time to learn and master.
In the early 1800s, Franz Schubert Senior wrote around one-hundred waltzes for solo piano so that people could dance in their living rooms. Chopin wrote eighteen waltzes for solo piano. These were clearly not intended for dancing but for listening.
While Brahms was living in Vienna in 1865, he wrote sixteen waltzes as a tribute to the city. Three versions were published a year later: the original four-hand versions, as well as difficult and simplified solo versions.
Johann Strauss II was known as "The Waltz King" because he was largely responsible for the popularity of the waltz in Vienna. He wrote over four-hundred compositions during his lifetime, and many of those were waltzes.
In the 1580s, Kunz Haas wrote that: "Now they are dancing the godless, Weller or Spinner, whatever they call it." He continued, "The vigorous peasant dancer, following an instinctive knowledge of the weight of fall, utilizes his surplus energy to press all his strength into the proper beat of the measure, thus intensifying his personal enjoyment in dancing". The wide, wild steps of the country people became shorter and more elegant when introduced to higher society.
The Viennese custom is to slightly anticipate the second beat, which conveys a faster, lighter rhythm. The younger Strauss would sometimes break up the one-two-three of the melody with a one-two pattern in the accompaniment along with other rhythms, maintaining the 3/4 time while causing the dancers to dance a two-step waltz. The metronome speed for a full bar varies between 60 and 70, with the waltzes of the elder Strauss often played faster than those of his sons.
As far as wedding waltzes, that may be a more contemporary thing. We're used to hearing what are really marches (processionals) as the bride makes her appearance. The Bridal Chorus from Wagner's Lohengrin composed in 1850, which we know as "Here Comes The Bride," has been the most popular processional. But "Canon in D" by Johann Pachelbel is commonly used, and since the televised wedding of Charles, Prince of Wales and Lady Diana Spencer in 1981, many have used Jeremiah Clarke's "Prince of Denmark's March."